COVID-19: India's tally rises to 18,601, death toll at 590
Mangalore Today News Network
New Delhi, April 21, 2020: The total number of positive cases in India as of Tuesday, 21 April stood at 18,601, with the number of deaths standing at 590.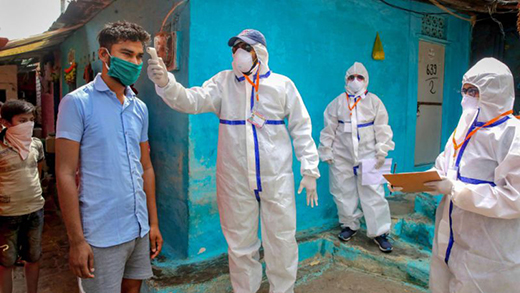 Out of these, 14,759 are active cases, with 3,251 patients being cured/discharged and one is a migrated patient.

The doubling rate for coronavirus, which was 3.4 days before lockdown, is now 7.5 days, a Health Ministry official said in its daily briefing.
Cases in India Cross 18,000, Death Toll at 590

The total number of COVID-19 cases in India stood at 18,601, with the death toll rising to 590, according to the Ministry of Health and Family Welfare. Out of these, 14,759 are active cases, with 3,251 patients being cured/discharged and one is a migrated patient.
80-Year-Old Dies from COVID-19; Death Toll Rises to 17

An 80-year-old COVID-19 patient has died in Karnataka's Kalaburagi district, taking the death toll in the state to 17, Medical Education Minister K Sudhakar said on Tuesday.

The elderly person was suffering from Parkinson's disease for the last three years and died at a hospital on Monday, the minister said in a tweet.
China Hoarded PPE, Selling it at High Rates: White House Official

The United States has "evidence" that in January and February, China bought 18 times more amount of masks and personal protective equipment, which they are now selling at high rates, a top White House official has claimed.

Peter Navarro, White House Director of Trade and Manufacturing, alleged on Monday that several countries, including India and Brazil, were not having enough PPE because Beijing was hoarding them.

"China vacuumed up all of the personal protective equipment around the world while it was hiding the virus," Navarro told Fox Business News in an interview.
US Oil Rebounds, Back in Positive Territory

US oil prices rebounded back above zero on Tuesday, a day after futures ended in negative territory for the first time as a coronavirus-triggered collapse in demand leaves the world awash in crude.

US benchmark West Texas Intermediate for May delivery was changing hands at USD 0.56 a barrel after closing at - USD 37.63 in New York.

Space is scarce to store oil amid the current glut, meaning there have been few buyers for the commodity.

The May WTI contract closes on Tuesday, and the contract for June delivery is now more actively traded. That enjoyed a modest increase on Tuesday after heavy falls a day earlier, rising to above USD 21 a barrel.
US to 'Temporarily Suspend' Immigration Over COVID-19, Trump Tweets

The United States is set to "temporarily suspend immigration" amid rising number of coronavirus cases, President Donald Trump has tweeted.
Italy's Current Virus Cases Fall for First Time

Italy reported its first drop on Monday in the number of people currently suffering from the novel coronavirus since it recorded its first infection in February, AFP reported.

Those receiving intensive care treatment also fell to the lowest level in a month as Europe's hardest-hit country began to see the first direct health benefits of its economically devastating lockdown.

The civil protection service said 108,237 people were either being treated in hospital or were recovering at home after testing positive -- 20 fewer than the total reported on Sunday.

Write Comment
|

E-Mail
|
Facebook
|

Twitter
|

Print