CM Siddaramaiah rebukes Mangaluru Police Commissioner S Murugan
www.mangaloretoday.com
Mangaluru, 11 May 2015: Chief Minister Siddaramaiah has shown displeasure over style of function of Mangaluru City Police Commissioner S.Murugan and rubked him handling the case of arrest and release of a rowdy sheeter belongs to right wing fringe group in Mangaluru recently, it was reported.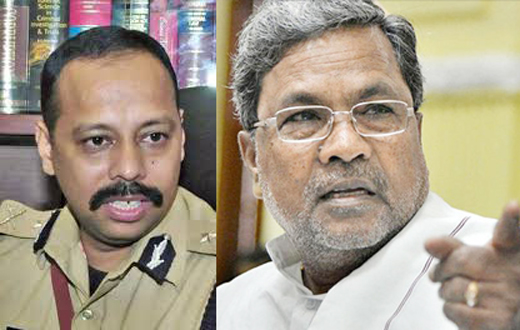 Lately, Chief Minister has been receiving heaps of complaints against Mangaluru City Police officials particularly in investigation of crimes and maintenance of Law and order in the city.
Chief Ministers said to be referred one particular case in which one Manoj Thokur, resident of Krishnapura in Surtkal and accued in several cases including infamous home stay attack case and abusing of Congress Coprporator in Surtkal. He is member of Hindu Jagarana Vedike.

Mangaluru City Police had invoked Karnataka Prevention of Dangerous Activities of Bootleggers, Drug-Offenders, Gamblers, Goondas, Immoral Traffic Offenders and Slum Gamblers Act (popularly known as Karnataka Goonda Act) against Manoj in November 2014 and subsequently Karnataka High court lifted it by an order. After he released from Bengaluru jail, the Vedike workers celebrated his release in Suratkal on May 01,2015 Friday by bursting crackers.

Siddaramaiah reportedly asked the police commissioner that what prompted him to allow the celebration and why no action was taken either against the officials present or against the protesters.

Chief Minister also received several complaints against the tardy investigation of several crime including murder, missing , fight between students and smooth run for moral policing out fits very under the nose of police inspectors.

Police brutality on youth from Bengaluru who tried to nab a molester , death of MBBS student and total mishandling of case of an incident assault on foreign students by local goons who work under local moneylenders are some of classic case lawlessness in Mangaluru in recent times.


Write Comment
|

E-Mail
|
Facebook
|

Twitter
|

Print