Byndoor-Kasargod train flagged off by former CM,Yeddyurappa
mangaloretoday.com
Byndoor, Feb 9, 2015: Former CM, B.S. Yeddyurappa flagged off the Byndoor-Kasargod passenger train on Monday February 9,2015. This was one of the trains most awaited by the people of this region announced in the last railway budget by the union government.
The Mookambika Road Byndoor-Kasaragod-Mookambika Road Byndoor passenger train (Train No. 56665/56666) was flagged off amidst a lot of fanfare here on Monday. B.S. Yeddyurappa, Shimoga MP, and Shobha Karandlaje, Udupi-Chikkamagaluru MP, flagged off the train at the railway platform coinciding with Railway Minister Suresh Prabhu flagging it off through remote control in New Delhi to the applause of the people gathered.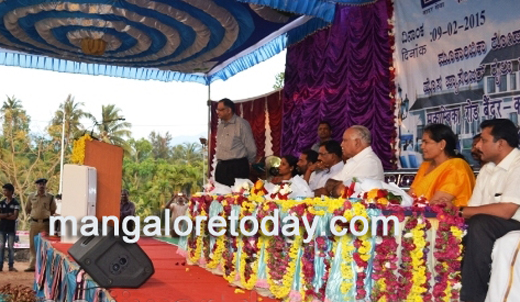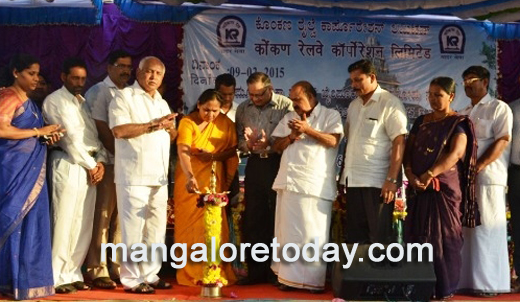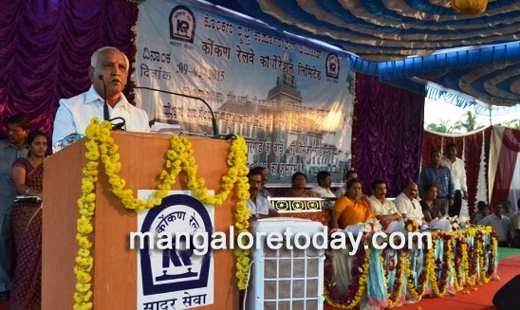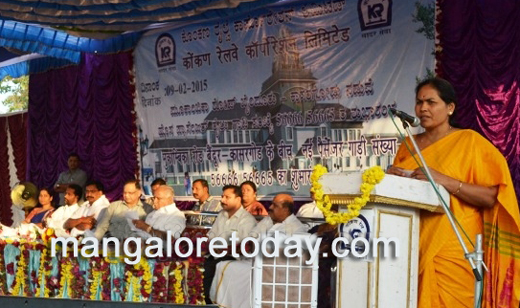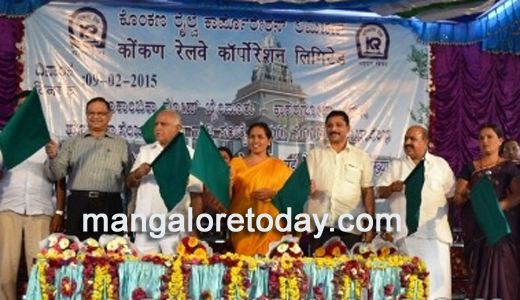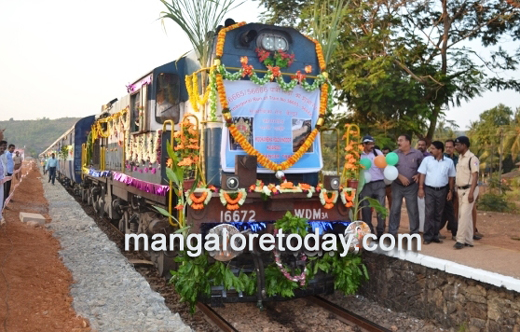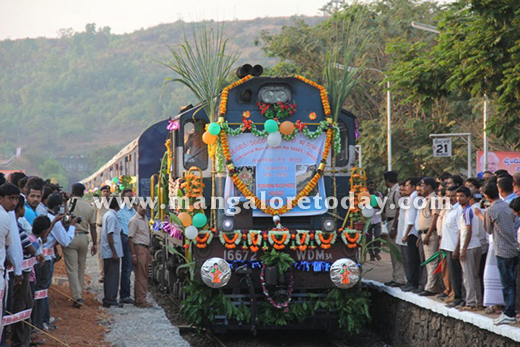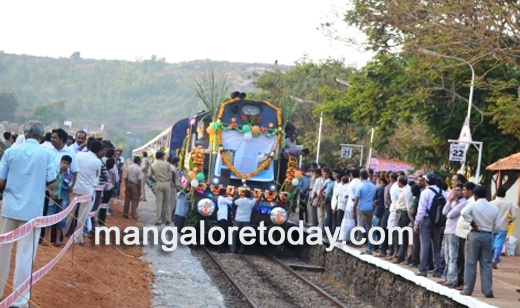 Speaking after flagging off the newly introduced Byndoor-Kasargod passenger train on Feb 10, Former chief minister B S Yedyurappa has demanded Chief Minister Siddaramaiah should withdraw his statement stating that the State government would henceforth not financially aid railway projects in the State. He demanded that Karnataka has poor railway connectivity and the railway transport is insufficient. He said the CM should reconsider his decision and lend financial support as usual, which was introduced by the BJP government during his tenure. He stressed that politics should not be involved. The government should earmark Rs 1,000 core to develop railways in State. He added the new train would be boon to the devotees especially from Kerala , who would visit the Kollur Mookambika temple.

He demanded that Panambur Port should be connected to Konkan Railway as against present Southern Railways. If Panambur Port is connected to Konkan Railways, it would benefit Konkan Railway Corporation.

Yeddyurappa said station for crossing would permitted in Byndoor Station which has more than 26 trains passing through, with nearly 24 coaches. He also added that Marusagar and Mangala express should be given stops on daily basis in Byndoor Railway Station. He added passenger train should be extended to Guruvayur and renamed Muarli-Mookambika passenger train. He said Byndoor Mookambika Road station should be developed.

Train no. 56666 Mookambika Road Byndoor - Kasargod passenger train will leave from Mookambika Road Byndoor station at 1305 hrs and reach Kasargod at 1810 hrs. Train no. 56665 Kasargod - Mookambika Road Byndoor passenger train will leave from Kasargod at 0640 hrs and reach Mookambika Road Byndoor at 1150 hrs. The train will halt at Bijoor, Senapura, Kudapura, Barkur, Udupi, Innanje, Padubidri, Nandikur, Mulki, Suratkal, Thokur, Mangalore Junction, Tokuttu (H), Ullal, Manjeshwar, Uppala, and Kumbla stations.

Shobha Karandlaje, Udupi-Chikmagalur MP were also present on the occasion. Gauri Devadiga, Zilla panchayat president, Babu Shetty, zilla panchayat member, Prasanna Kumar, BJP district president Tingale Vikramaditya Hegde were among others present on the occasion.
Regular service of the train No. 56665/56666 will start from Tuesday, February 10.

The timings of this new passenger train at the stations between Byndoor and Kasargod are given below: Train 56665 will leave Kasargod at 6.40am, Kumbala at 6.51am Uppala at 7am; Manjeshwar at 7.09am; Ullal at 7.18am; Thokkottu at 7.24am; Mangaluru junction at 8.05am; Thokur at 8.30am; Surathkal 8.42am; Mulki at 8.52am; Nandikur at 9.02am; Padubidri at 9.15am; Innanje at 9.26am; Udupi at 9.38am; Barkur at 9.56am; Kundapur at 10.35am; Senapura at 10.52am; Bijoor at 11.08am; and reach Mookambika Road at 11.50am.Train 56666 will leave Mookambika Road at 1.05pm; Bijoor at 1.12pm; Senapura at 1.26pm; Kundapur at 1.38pm; Barkur at 1.52pm; Udupi at 2.10pm; Innanje at 2.22pm; Padubidri at 2.48pm; Nandikur at 2.51pm; Mulki at 3.05pm; Surathkal at 3.31pm; Thokur at 4.10pm; Mangaluru junction at 4.50pm; Thokkottu at 5.05pm; Ullal at 5.15pm; Manjeshwar at 5.25pm; Uppala at 5.33pm; Kumbala at 5.42pm and reach Kasargod at 6.10pm.
Composition of the train will is 14 general second class coaches and two luggage-cum-brake van coaches.


Write Comment
|

E-Mail
|
Facebook
|

Twitter
|

Print