Blue whale 'victim' gets treated in city; reunited with family
Mangalore Today News Network
Mangaluru, Oct 30, 2017: Wasim Akram, 22, a native of Assam, was working at a canteen at the Kochi International Airport, when he was allegedly gripped by the killer game. The challenges thrown in virtual space made him mentally unstable and he left everything behind only to land up in Panambur the city's beach resort wandering aimlessly.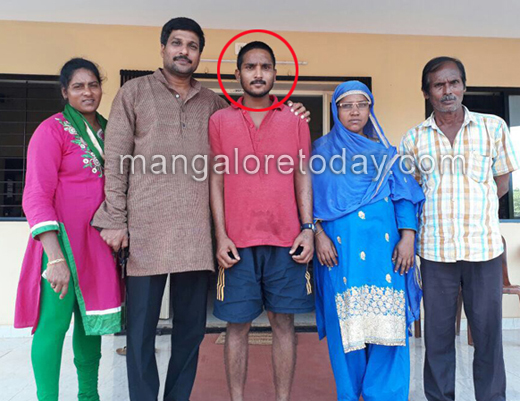 Panambur police inspector said he and his team picked Akram from a public spot and despite questioning, they could not unearth any information. As he looked mentally disturbed, he was taken to Snehalaya. Though he did not confirm that Akram was a victim of blue whale, he did not rule out any such chance either.

Akram is reported to have said that as he had heard about the game from various quarters, he was curious to download it on his Android phone. He said he searched for the game online and found a link after many searches. Though, he did not encounter any threat from the game, that had a "fish" as its logo, his friend, forcefully deleted the game from his phone. It was then that the problem began.

Akram said he started getting links leading to challenges. He said he first clicked the link out of curiosity. He then got a series of drop-downs which threw him three tasks - harm somebody for Rs 10,000; board a train and then jump from it while on the run; find a water body, jump into it and sit in the water for a specific period of time. However, he did not succeed in any of the challenges.

Snehalaya, who got him treated at a private hospital here, said they initially did not believe Akram. "I did not want to believe him. That's why I tried to download the game on my phone several times. I could not. Then I handed my phone to him (Akram). Within a few minutes, he found it on the internet. I had to believe it, then" Joseph said.

A medical specialist who treated Akram, said he suffered from acute psychosis. "We diagnosed him with acute and transient psychotic disorder. We administered him anti-psychotics. He responded to the treatment very well. Later, our postgraduate students and a team from Snehalaya found his profile on Facebook, called several of his friends and got in touch with his parents, he was sent back home on Oct 29, Sunday.


Write Comment
|

E-Mail
|
Facebook
|

Twitter
|

Print