Bishop Rev Dr Peter Paul Saldanha completes one year in office today
Mangalore Today News Network
Mangaluru, September 15, 2019: The Roman catholic church and a wide cross section of people in general recall and mark joyfully the completion of the first year anniversary of the Bishop of Mangalore, Rev Dr. Peter Paul Saldanha. He was consecrated Bishop on September 15, 2018 at the Our Lady of Rosary Cathedral Grounds, Mangaluru.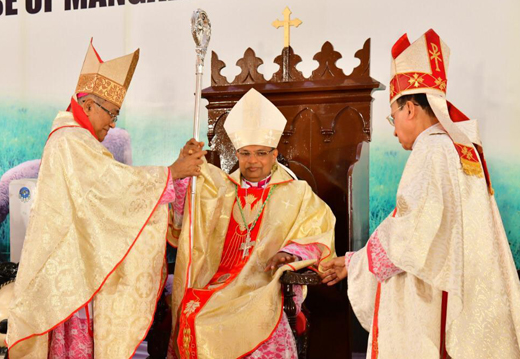 The people friendly, affable, simple and scholarly Bishop Saldanha has earned the good will and respect of people from all walks of life and communities. His rare down-to-earth qualities and back ground promoting love of nature and closer ties among local communities has been a bright torch in the last one year and there is a very positive out look and expectation among all concerned. He has captured hearts speaking fluently in Konkani, Tulu, Kannada, English, Hindi and Italian. He reads easily in French and keeps very close to his priests and people.

Right now, he is in Vatican Rome, along with Bishops of the region on a official visit to interact with His Holiness Pope Francis, as per call of the Church. He is being wished and honoured by many on this occasion, with good wishes and blessings for a long and fruitful tenure for the well being of Mangalore.

RECAP : Rev. Fr. Peter Paul Saldanha was born in Our Lady of Remedies parish, Kirem, near Kinnigoli, Diocese of Mangalore, on April 27, 1964. After his primary and secondary education in his village, he did his philosophy and theology at St. Joseph's Seminary, Jeppu, Mangaluru. He was ordained Priest on May 6, 1991, for the Diocese of Mangalore. Later he obtained a diploma in Depth Psychology and Formation, from the Institute for Formators, Bangalore, in 1994. He also obtained a doctorate in theology from the Pontifical Urbanian University, Rome, in 2005.

The title of his doctoral thesis is: "Revelation as 'Self-communication' of God". Other than writing articles in national and international journals, he has also authored a book in Christian theology, titled: "The Church, Mystery of Love and Communion", published in 2014 from the Urbanian University Press. As a professor of theology, he has guided many students in their Masters and doctoral studies.

During his tenure as priest, he served the Diocese in the following ministries: Assistant Parish Priest at St. Lawrence's Church, Moodubelle (1991-1992); Assistant Parish Priest at Our Lady of Miracles Church, Milagres, Mangalore (1992-1994); Assistant Parish Priest at Our Lady of Dolours Church, Vittal (1994-1996); Teacher and Formator at St. Joseph's Interdiocesan Seminary, Jeppu (1996-1999) and at the same time, Vice Rector of the same Seminary (1997-1999). From 1999 to 2005 he did his studies in Rome, and on his return he was appointed Professor at St. Joseph's Interdiocesan Seminary, Jeppu (2005-2010), and from 2008-2010 also Vice Rector of the same Seminary.

Since 2010 he was Professor of Theology at the Pontifical Urbanian University, Rome. From 2011-2015, he was the Spiritual Father at the Pontificio Collegio Urbano De Propaganda Fide, Rome. On 14.03.2015 the Holy Father appointed him as Consultor of the Secretary General of the Synod of Bishops, and in July 2015 he was appointed as Adiutor Secretarii Specialis (Helper to the Special Secretary) of the XIV Ordinary General Assembly of the Synod of Bishops which dealt on the topic of family.

He is known for his simplicity and listening capacity. He promotes participatory type of leadership. He has taken keen interest in building bridges between various religious communities and promoting green movement. The teachings of Pope Francis are highly prized by the Bishop and he has been drawing his inspiration from him.

Write Comment
|

E-Mail
|
Facebook
|

Twitter
|

Print