Bethany releases nun's eco book in city
Mangalore Today News Network
Mangaluru, Aug 20, 2018: The Bethany Sisters (BS) Congregation, native to Mangalore, at the annual meet of the key leaders from all over India of the congregation's leading 'Socio Medical Apostolate', inaugurated by V. Rev. Sr. Rose Celine, the Bethany Superior General. on August 18, Saturday.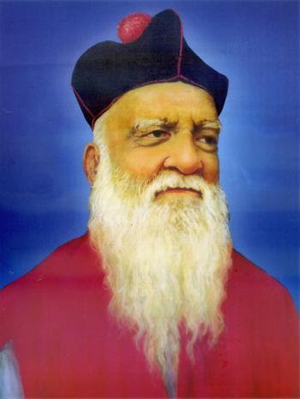 On the occasion, rare and much looked forward to, book on ecology was released, published by TPI Dissertation Series 9 of Theological Publications in India (TPI), Bengaluru, the unique Dissertation of Sr.Dr. Shalet Mendonca BS, for the Doctorate in Sacred theology from Jesuits School of Theology, Santa Clara University, Berkeley, California USA; titled "A Spirituality of 'Making-Whole' Cry of Earth and the Poor" (ISBN No:978-93-83163-87-8) . It was applauded and appreciated by the distinguished participants present.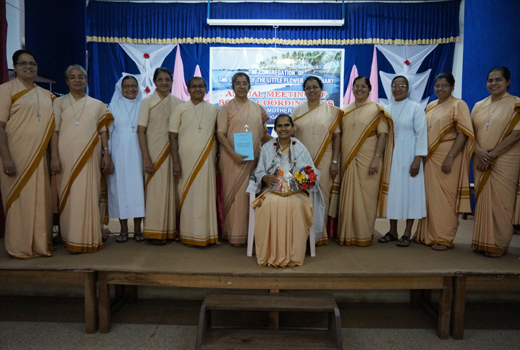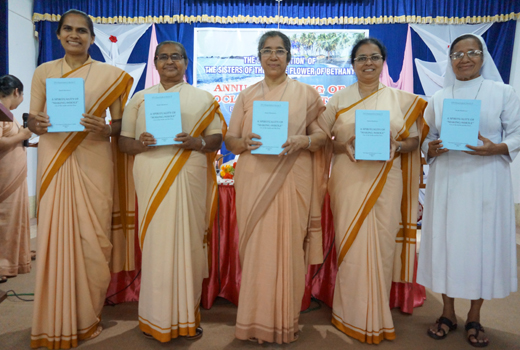 Rev Sr. Rose Celine BS in her address impressed that the book is the fruit of deep scholarship, interpreting in a reachable manner for users. A new vision of creative scholarship infusing courage and hope for all. empowers theologians, spiritual gurus, religious leaders, women, social activists in India and rest of the globe. It has a potential to prove a tool for a wide class of people to heed to the cries of Mother earth and specially the poor, fostering a deep aesthetic sense for co-naturality to identify with the elements of nature the marginalized, within the shape of the creator of all. Sr.Dr.Shalet was felicitated on the stage.

Sr.Dr. Shalet Mendonca BS : A member of the Congregation of the Sisters of the Little flower of Bethany (BS), Mangalore. A theologian, trained in both environmental ethics and Eco-feminist spirituality. With a Licentiate in Sacred Theology (STL) from KU Leuven Uni Belgium and now Doctorate in Sacred theology from Jesuits School of Theology, Santa Clara University, Berkeley, California USA., in the year 2017. Her thesis, here published for all, sheds light on the twin-sufferings of the earth and the earth's poor from a uniquely Indian standpoint. She gives a clarion call to rediscover our own roots, our interdependence and interconnectedness in the cosmic web of life and gain a perspective to positively respond to the cries of the earth and it's poor. She is now engaged in giving seminars and various courses as a resource person and visiting faculty at Mater Die.

Sr Dr. Shalet mentioned in her brief address, that it all started in her early mission work in Pannur, near Raichur. the poverty and misery of lack of 'everything' - shelter in tiny huts, water carried from far off , wood to cook, clothing, health care, money ........a whole list of life. The grief and helplessness was over powering and indelible, often the experience of the open world has taught me things impossible. She mentioned the suicide of a farmer and the plight of the family. She also got a second chance there which shaped and hardened her determination to reach out. Her superiors all along to this day supported and blessed her efforts and commitment, she added. You all journey with me constantly; this book here presented is the child I have given birth to in a symbolic manner, just as a mother labours to bring forth her child, and sees it a super joy, this book is my child now and joy fills me and may it fill all those who use it and gain from it.

The Blue Book : Packed with 275 pages of information, facts and arguments, very conveniently divided in to four main chapters and several easy to read researched topics with references, of prime interest in the context of Ecology and Eco-feminism, very relevant in all walks of life civil and religious. Imagination, vigor and commitment with superb scholarship gush forth with a strong base of Eco-feminist and liberation thought. The contents of the dissertation released is seen, very closely relevant to the tragic crisis we see all around us at this very point of time in various places close here - excessive pounding rains and wind, extensive flooding, excessive heat and so on with common people suffering and exposed to high danger. It is clear that man is responsible for all this and the negligence towards ecology and nature. Dr. Mary McGann, Associate, University of Berkeley, California US in the front pages of the book states that this document/book traces a journey of hope: from a clear sighted look. The pivotal documents of repute on this topic of 21st century life......extending to be prophetic and contemplative, rooted in mysticism of openness, presence and wonder.


The observations/opinion by renowned scholars, authors and specialists like : Dr. Alison Benders, Dr. William O'Neill SJ, Kevin O'Brien SJ , Joseph B.Mathuas SJ, and many personalities, brings to the fore the value of the book. . A very readable, practical and educational authority on the subject recorded after research is most gripping, of inspiration and practical use in many spheres of ecology and spiritual approach.

Dedicated to Bethany Founder : It is highly relevant to note that the document/book and the efforts and message is fittingly dedicated to the Founder of The Congregation of BS sisters, 'Servant of God', Raymond F C Mascarenhas (1875-1960) who is the first Mangalorean to be put on the path to sainthood/canonization in the Universal Roman Catholic Church. He has evidently always shared deep feeling and spirituality which is radiated on several occasions to reveal his love and respect for natural resources and ecology in it's early form in the church and civil scenario.

He was a pioneer who was inspired and saw the vision and motivated and worked to send the first Bethany sisters to US for education and to widen their reach to help and work for the suffering of this our holy land. Going through his life and the work of subsequent superiors the importance and motivation extended to send the sisters to overseas institutions has been a very strong point and has enlarged the sphere of services which have today spread not only to every nook and corner of our own India, but to many needy pockets of the globe. It will need much space to detail the many nuns deputed for higher education which has been the best resource to educate and serve the marginalized since 1921. The congregation has in an exemplary tribute to the founder carried forward the baton as graciously given by him through all these years and many scholars have come had the advantage of education from universities and institutes over seas and also taken advantage of the good education in top institutions at him as well.

The Founder also preached the intrinsic wonder of connections of elements of nature with the least and last. He saw and showed the imprint of the creator in the whole of creation and nature. His understanding and preaching on 'ecological wholeness yielding to the cry of the earth and the poor' is most extraordinary and rising to the fore today right before us.

- Compiled by I J Saldanha-Shet,.

Write Comment
|

E-Mail
|
Facebook
|

Twitter
|

Print