Bad-riya Jum'a Masjid at Kodi, Kundapur, renovated in a eco-friendly way
Mangalore Today News Network
Udupi, Jan 16, 2016: Speaking to media, Syed Mohamed Beary of Bearys Group claimed that the mosque is the world's first zero energy eco-friendly green mosque pioneered by the group. The mosque design has integrated Islamic architecture and sustainable technologies, he added.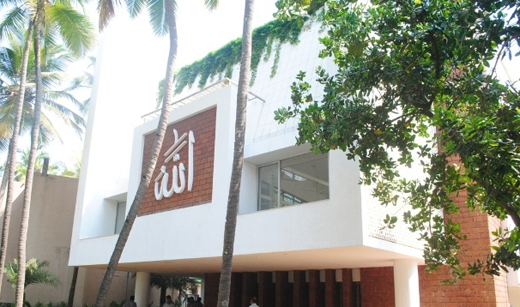 Bad-riya Jum'a Masjid at Kodi in Kundapur has been renovated with sustainable eco-frinedly features by the Bearys Group. Bad-riya Jum'a Masjid at Kodi in Kundapur has been renovated with sustainable eco-frinedly features by the Bearys Group.

Syed Mohamed Beary said the important feature of this green building is that its entire energy requirement is met through hybrid renewable energy, both wind and solar.

He added, the world is passing through climate change crisis, the mosque demonstrates how sustainable developments can help in mitigating global warming. It also presents a modern face of Islam aiming to promote harmony among all communities. It is a contemporary eco-friendly design. The mosque built by his grandfather 80 years ago and was renovated 40 years ago and it is being renovated again with eco-friendly technology now. It is our little contribution in India's march towards sustainable development. He also hoped that the mosque will become a holistic place of worship where people from all over the world can come, pray and find true solace.

The mosque, built on 15,000 sqft area, at a cost of Rs 2 crore has come up in a palatial ground accommodating greenery around. The cooling of the building is achieved by using elements of nature. The building orientation minimises solar heat.

The 'L' shaped building plan and elevated nature of the prayer hall, green vegetation and water tanks around it offer a naturally cooled environment. The solar heat reflecting terrace floor, laid with white China mosaics and fitted with turbo vents, not only keep the prayer space cool, but also reduces warming of local micro climate, he said. The power consumed is six kilo watts as against the actual requirement of 40 to 50 kilo watts. Its open envelope with sun rays travelling and non-conducting Glass Reinforced Concrete (GRC) Jallis with over 50 per cent openings, increase natural ventilation.

The natural cooling of the building is accentuated by the wind scoop on 70 foot multifunctional Minaret (from where the Azan, the call for prayer is given) which forces down draft of cool breeze into the prayer hall and also supports the tower structure of wind turbine mounted atop it.

Use of hybrid renewable energy (Wind and solar energy) in the mosque will produce more energy than used by the mosque, thus feeding energy to state grid and accruing (CER) credits for next 25 years.

"Reduce-Reuse-Recycle-Regenerate" technology has been implemented here and it is equipped with "Pressmatic" (Taps with technology that allows only a fixed quantity of water to flow with every press of its knob) water fixtures to conserve precious water, he claimed.

The calligraphy in Arabic, Chinese and Japanese languages on the walls of the mosque is done by Mukhthar Ahmed, the head of Institute of Indo-Islamic Art and culture, Bengaluru. The mosque also accommodates a library.

Write Comment
|

E-Mail
|
Facebook
|

Twitter
|

Print