B M Hegde asks students to think before taking up professional courses
Mangalore Today News Network
Mangaluru, May 23, 2016, DHNS : "Do you want to study?" or "Do you have to study?" – Manipal University former vice chancellor Prof B M Hegde asked the aspirants of engineering and medical courses.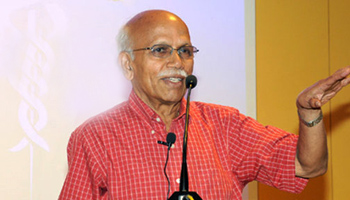 He was addressing students as a part of the pre-counselling guidance programme organised by Deccan Herald and Prajavani at Sri Sudheendra Auditorium of Canara Girls' High School on Saturday.

Mentioning that many students "have to study" rather than "want to study," he rued that there is a dearth of "thinking students" due to the existing education system. By questioning students on the meaning of science, education, existence of mind – like, 'why can't one see an electron' – he made the students think. He also said that the aim of education should be to create a healthy mind.

Citing examples of well-known scientists Isaac Newton and Albert Einstein, Prof Hegde said that both could not pass any exams. He also explained the roles and contributions of scientists lesser-known to common man, such as German physicists Werner Karl Heisenberg and Max Karl Ernst Ludwig Planck and American biologist Elisabet Sahtouris.

Giving a piece of advice to the aspirants of medical courses, he told them to empathise with patients. "If you want to make money, please don't become a doctor – you will be a menace to the society," he said.

Another resource person, Rashmi Bhandary, Sahyadri Engineering College Placement Officer, told the engineering aspirants that the next four years of their life would determine the subsequent 40 years of their life.

Stating that there are wonderful and ample opportunities for engineers, she suggested the students to choose a subject only if they are really interested in it. Bhandary called upon engineering aspirants to try not to select a college just because their friends or peers study there, as it may not really help them academically. She said that there is no substitute for hard work and also explained the opportunities and scope in different streams and disciplines of engineering courses.

Yet another resource person, Government College (Kavoor) Lecturer Sacheth Suvarna, explained in detail the selection process for the Common Entrance Test (CET) being conducted by the Karnataka Examination Authority (KEA), the dos and don'ts and the necessary steps to be taken by students before filling the forms and the various options available for the students. "As the entire process is carried out online, students need to check the website regularly," he said.

Earlier in the day, Alva's Education Foundation Chairperson Dr M Mohan Alva inaugurated the programme and stressed on the need to select the right course.

Stating that the recent moves on NEET and CET have confused the students, Dr Alva called upon parents to help their sons and daughters take the right decision and not impose their interests on them.

Expressing disappointment that a few private institutes have been engaged in making business, he called upon students not be carried away by false propaganda or publicity.

Students from different colleges attended the pre-counselling guidance programme. Fran Mascarenhas, a student of St Philomena College in Puttur and an engineering course aspirant, said that he benefited a lot from the programme as it was informative and interesting.

"I did not know about some of the options available in the seat selection process until I attended the programme," he said.

Similarly, Jasline Ancita Lobo, a student of St Mary's PU College and a medical course aspirant, said that she learnt many new aspects during the different sessions.

Prajavani bureau head Balakrishna Puttige and Printers (Mysore) Private Limited circulation department manager Prakash Nayak were present.

Write Comment
|

E-Mail
|
Facebook
|

Twitter
|

Print