August 10 - 'black day' City churches to hold protest for discriminated Dalit
Mangalore Today News Network
Mangaluru, Aug 9 ,2017: According to a call from the Mangalore diocese pastoral prarishad, social and media committee convener Rev.Onil, D'Souza, a 'Hakkotaya' protest is to be held in frount of the gate of DK DC opposite the Btate Bank, on August 10, Thursday, commencing at 3.30 pm. A memorandum will be submitted following the protest to the DK DC for forwarding to higher concerned authorities. The organisers have invited interested people to attend this rally and demonstrate their concern for the oppressed dalits.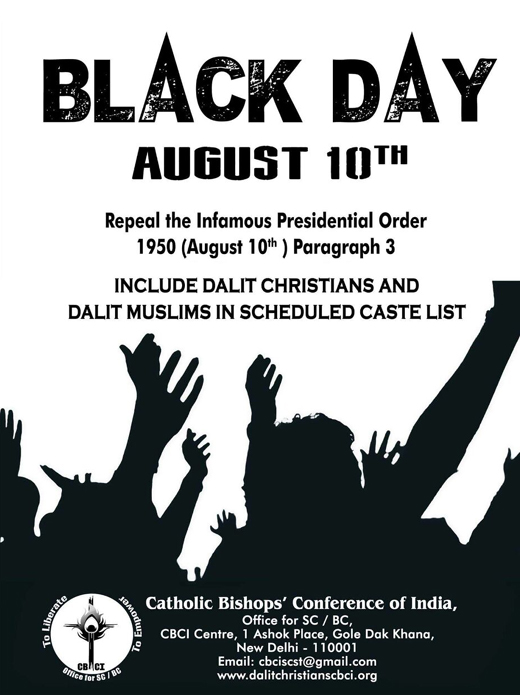 The Catholic Christians of India are observing August 10, 2017, Thursday as 'Black Day' to demand that the Government repeal a Presidential order - 1950 (August 10) Para 3 - this order/law now offers protection exclusively for Hindu members of the 'dalits', SC & STs. This amendment to the law precludes Christian and Muslim dalits, evidently a gross discrimination. This observance of 'Black day' will be held by the church all over India too demanding the rights of Dalit Christians and Muslims.

This August 10th will be a "Black Day" to highlight the discrimination suffered by Dalit Christians in India for 67 years. It is the initiative launched by the Indian Bishops' Conference (CBCI) Office of Dalits and the Disadvantaged Classes.

The constitutional order of 1950 on the "scheduled caste", signed on August 10, 1950 by the then president of India [Rajendra Prasad, ndr] states that "No person professing a religion other than Hinduism may be considered a member of Scheduled Caste ". Subsequently, the order was modified to include Sikhs (in 1956) and Buddhists (in 1990).

The bishops complain that civil petition 180/2004, which requested the deletion of paragraph 3 of the order of 1950, is still pending before the Supreme Court. That is, they argue that "the constitutional rights of Christian and Muslim Dalit have been denied for 67 years because of religion." Specifically, ecclesiastical hierarchies believe that paragraph 3 is "unconstitutional, a black page written outside the Constitution and inserted through the black door of an executive order."

Meetings, rallies, demonstrations, hunger fasts, submitting memoranda, candle vigils and other forms of demonstrations can be also organized to show support and solidarity to the suffering Christians of scheduled caste origin. The media especially the social media is to spread the news to the civil society.



Write Comment
|

E-Mail
|
Facebook
|

Twitter
|

Print