Anand Mahindra offers help to Mangaluru woman entrepreneur
Mangalore Today News Network
Mangaluru, Jan 3, 2018 (FE): Even as trolling and online bullying has become very common nowadays, sometimes, some news from the social media sites can bring cheer to your face. Something similar of sorts happened when Tweeple connected a woman entrepreneur in Mangalore with Mahindra Group CEO Anand Mahindra.

A success story of a woman under the title 'Halli Mane Rotties' was shared on Twitter. The story was of 34-year old Shilpa who ran mobile fast-food joint run. She turned a Mahindra Bolero into a food truck. The single mom has now become popular for serving North Kannada delicacies. Learning about her, the Chairman of Mahindra Group, Anand Mahindra asked for some Twitter magic, in order to help him connect with the woman so that he can help her expand the business. Shilpa was planning to expand her business by buying another vehicle.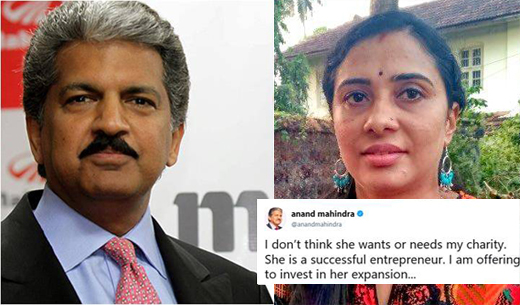 "A terrific story of entrepreneurship to end the week with.At Mahindra, we call this a Rise story. Am so delighted the Bolero played a small role. Can someone reach her & tell her I will personally invest in her expansion by supplying a Bolero for the second outlet she's planning?" Mahindra said in a tweet.

In another tweet, he clarified that this isn't some kind of charity but an investment. "I don't think she wants or needs my charity. She is a successful entrepreneur. I am offering to invest in her expansion," the business tycoon wrote.

Shilpa had started the business almost two years back after taking a loan for a new car for which she had to face a lot of criticism. As per News Minute report, she had reluctantly withdrawn Rs 1 lakh that Shilpa had kept for her son's education. With the money, she bought a Mahindra Bolero up truck and then started standalone food joint.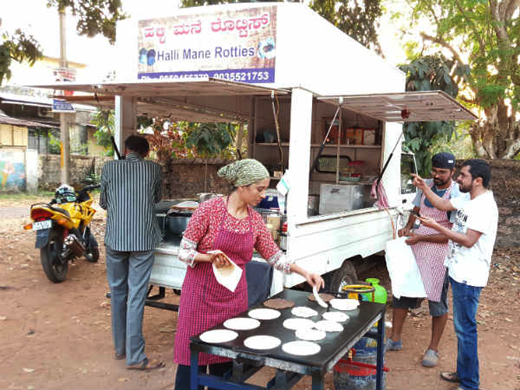 This wasn't the first time when Mahindra helped somebody who had done something unique with his company's vehicle. This year, he gifted a new car to an auto-rickshaw driver, who had given his three-wheeler a Scorpio make-over.

While some people have remarked that he should have offered money to help the woman, Mahindra's reply on gifting a car is winning a number of hearts. "I don't think she wants or needs my charity. She is a successful entrepreneur. I am offering to invest in her expansion," Mahindra wrote. Shilpa hails from Hassan. She dropped out of school after Class 10. She had started a mobile food truck business after her husband went missing since February 2008.

Write Comment
|

E-Mail
|
Facebook
|

Twitter
|

Print