Amittrajit-Ashwin duo win INRC-1 category of Coffee Day Rally
Mangaloretoday News Network
Chikkamgaluru, December 02: Following their epic win of the European Rally Championship at Greece and making it to the top at the Indian National Rally Championship (INRC) season, driver Amittrajit Ghosh and co-driver Ashwin Naik won the INRC-1 category at the Coffee Day India Rally which concluded on December 2 in Chikkamagaluru. This is the fourth leg of the INRC.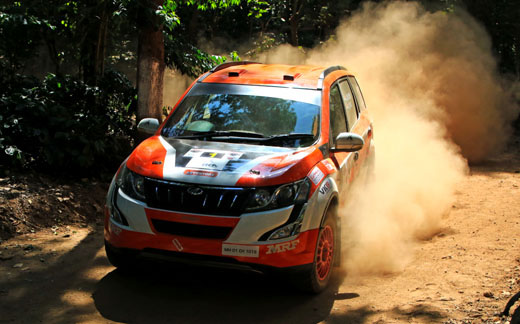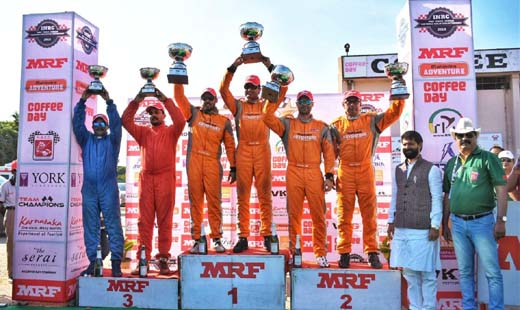 The Kolkata-Mangaluru duo which represented Mahindra Adventure drove a Mahindra XUV 500 and continued leading the overalls in the INRC with total points of 79 as against their rivals Karna Kadur – Nikhil Pai (67 points) and Gaurav Gill – Musa Sherif (60 points). Amitrrajit and Ashwin duo will go into the final leg of the of the Indian National Rally Championship to be held in Kochi on 13 and 14 December with renewed hopes to get an outright win
As per the results, Ghosh and Naik brushed off a five-second overnight deficit to finish second overall ahead of Bopaiah KM (Gagan Karumbaiah) of Team Champions to pick up valuable championship points. The final INRC title will be decided in the fifth and concluding round of the season in Kochi.
At the Coffee Day rally, Ghosh-Naik and Kadur-Pai also topped the INRC-1 and INRC-2 categories, respectively. While Delhi's Arjun Bani Rao - Milen George won in the INRC-3 class as the three-day event, organised by the Motor Sports Club of Chikkmagalur.
Meanwhile, Ghosh, still to recover fully from an allergy that also hampered his breathing, said he was happy to have finished second which fetched him precious championship points. "Today, we decided to take it easy in the long stage and push in the two shorter stages. In the context of the championship, it is always good to have points in the bag. So, now, whoever among the three of us (Kadur and Gill being the others) wins in Kerala will emerge champion," said Ghosh.
It could be recalled that Ghosh-Naik duo had won the European rally championship (ERC) in Athens, Greece earlier this year and topped that up resounding positions in in the last four legs of the INRC at Chennai, Coimbatore, Arunachal Pradesh and Chikkamagluru. Speaking from Chikkamagaluru, Naik said "Amittrajit and I are going into the final round at Kochi with a lot of hopes riding on us and we are sure we can better our performance despite stiff competition"

The results (Provisional):

Overall: 1. Karna Kadur / Nikhil Pai (Arka Motorsports) (02hrs,19mins,59.9secs); 2. Amittrajit Ghosh / Ashwin Naik (Mahindra Adventure) (02:22:15.3); 3. Bopaiah KM / Gagan Karumbaiah (Team Champions) (02:22:18.8).

INRC-1: Ghosh / Naik; 2. Gaurav Gill / Musa Sherif (Mahindra Adventure) (02:23:49.2); 3. Michu Ganapathy / Venu Rameshkumar (Team Champions) (02:27:18.1).

INRC-2: 1. Kadur / Pai; 2. Bopaiah / Karumbaiah; 3. Younus Ilyas / Harish KN (Pvt) (02:22:34.7).

INRC-3: 1. Arjun Bani Rao / Milen George (Chettinad Sporting) (02:24:29.4); 2. Fabid Ahmer / Shahid Salman (Chettinad Sporting) (02:26:34.7); 3. Aroor Vikram Rao / Somayya (Team Falkon) (02:27:57.4).

FMSCI 2WD Cup: 1. Vikram Gowda / Sudheendra BG (Team Champions) (02:31:51.6); 2. Prakhyat Shirole / Bharath SM (Pvt) (02:32:53.0); 3. Manoj Mohanan / Sob George (02:35:32.7).

FMSCI 4WD Cup: 1. Sanjay Agarwal / Smitha Prasad (Team Champions) (02:31:20.0); 2. Sachin Murthy / Satyapal (02:35:00.5); 3. Avin Nanjappa / Suraj M (Pvt) (02:39:26.5)


Write Comment
|

E-Mail
|
Facebook
|

Twitter
|

Print