All levels of Congress need introspection : Margaret Alva at city Book function
Mangalore Today News Network
Mangaluru, Mar 12, 2017: The city was eager to hear Margaret Alva, congress party leader and former governor of Rajasthan and Uttarakhand, on March 11, at St.Agnes College at a function to introduce her autobiography. She pointed out that her three-page resignation for the post of AICC general secretary, has been published in her autobiography 'Courage & Commitment' as a final expression of concern.

Speaking media persons on the sidelines of her book function here on March 11, Saturday, Alva, said she has explained about the contents of her book to AICC president Sonia Gandhi. "My book is not a political thesis. My book is story of my life, success, failures, battle won and lost and achievements. It is simply a life of a person and not politics," she said after releasing the book.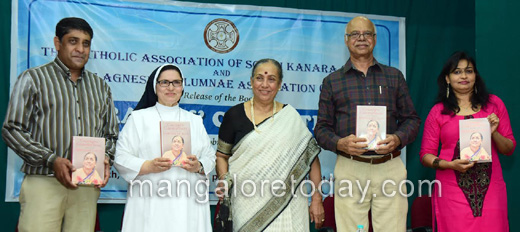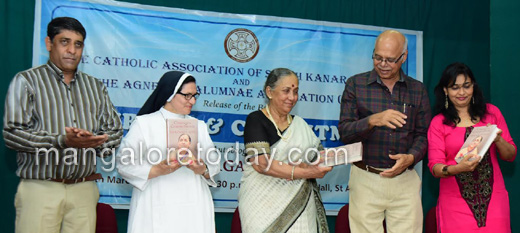 "I have published my resignation in my book. I have told this to Sonia Gandhi that I am not in agreement with her decision makers and her advisers and that is the reason I am stepping out. On several issues, I did not agree with the people around Sonia Gandhi and I said it in my resignation letter, which is in my book. The three-page letter was my final expression of concern. I meet Sonia Gandhi, Ahmed Patel and Digvijay Singh when I go to Delhi. I can give suggestions and advice, but I don't have the power to implement them. Introspection is needed at every level of the party," Alva said.

However, on her bond the with Congress, she, said there is no question of leaving Congress. Asked if she would retire from politics, she said: "There is no retirement in politics. When S M Krishna can take political decisions why can't I? That doesn't mean I am going to quit Congress. There is no question of me leaving the party. When I started writing the book, many wrote that I am joining the BJP. Why should I leave? It (Congress) is my party and if something is going wrong in it, I will say so," Alva said.


On election results of five states, she, said, "We all know what is going wrong with the Congress and we don't need introspection to know about that. Sonia Gandhi was not able to campaign as she was not keeping well and the party workers were sort of low in confidence because of that. There was no enthusiasm among the party workers as Sonia Gandhi was not there."


Further, she opined that winning and losing elections is part of democracy. "We had lost Punjab in last election, but we have won it now. In Uttar Pradesh, it was a great battle. Prime Minister Narendra Modi evolved a good strategy and achieved success. I congratulate him. According to me, nothing can be defined as final. Those who have won today might lose tomorrow," she said.


To a query on changing leadership of Congress, she, said, "I am not talking about changing leadership or anything. The Congress Working Committee is sitting in Delhi to think about such matters and I am not a member of it. After every election, we speak about introspection, discussion and action. Now it is time to do that. The situation is not that bad. We have won Punjab in a big way. We have won Manipur also and according to me, we are going to form the government in Goa too."
My book is story of my life, not a political thesis she added.

Write Comment
|

E-Mail
|
Facebook
|

Twitter
|

Print