Alan Macado Prabhu's 'Slaves of Sultans' to be released today
Mangalore Today News Network
Mangaluru, Aug 14, 2015: New historical work on Tipu 'Slaves of Sultans' will be released today Aug 14 at a function of CASK - Catholic Association of South Kanara at 4.30 pm at St. Agnes College Bendur.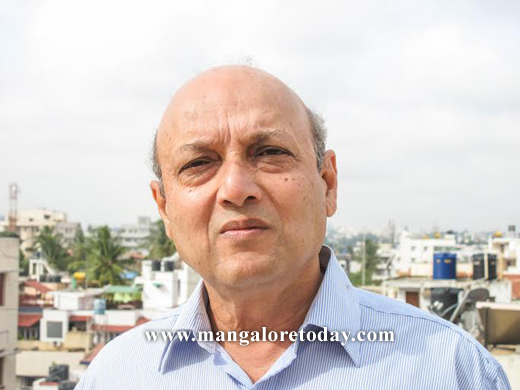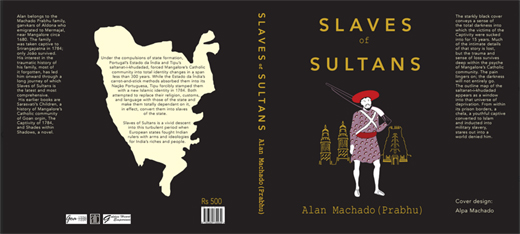 Alan Machado Prabhu, reputed and committed researcher is revisiting the 300-year old connection with a book tiled 'Slaves of Sultans', his third, it serves to bridge the gaps of the old and new in a greater way.

The well known author Alan Machado Prabhu, documents in this latest book the migration of Goan Saraswats (Konkanis) to Mangalore and the identity conversion that took hold over the years. The story of the Konkani Saraswats is ancient and classic. Many reasons are found why people migrate, but the most common one, throughout history, it is said is 'survival'. This book 'Slaves of Sultans' is deeply researched by Alan Machado and documents this journey while also clearing certain misconceptions.


About Alan Machado Prabhu:

Alan Joseph Machado (Prabhu) belongs to the Macedo (Machado) Prabhu family, originally ganvkars of Aldona, in Bardez, Goa. The Prabhu family was converted to Christianity sometime after 1605, and emigrated to Mermajal, near Mangalore circa 1680, along with a significant part of Bardez's population. The family was taken captive by Tipu Sultan to Srirangapatna in 1784; only João survived. Alan's interest in the traumatic history of his family, most of it forgotten, has led him onward through a long journey of which 'Slaves of Sultans' is the latest and most comprehensive. Alan is an engineer by profession and has worked in Australia and the UK.

'Sarasvati's Children' is Alan's first serious attempt to explore the history of Mangalore's Catholic community of Brahman origin. It takes us through Kanara, and their deportation to Srirangapatana by Tipu. The conversion of sections of their community to Christianity, their further migration to the Captivity of 1784. 'Shades within Shadows', a novel, uses simple and elegant language, with a rhyme examines the Tipu's motives in ordering the Captivity, rhythm that adds a lilting touch to its prose. Examining exuberant youth and the loneliness of the ageing, and death. Set in the period from Tipu's arrival in Mangalore to the Captivity, it delves into the Mangalorean human foibles and quirks, weakness and inner strength, adversity and survival, Catholic community's life in Tulunadu's rich cultural world.

Synopsis of Chapters of the New book :

Preface: Reflections on the traumas inflicted on subjects by policies of the state, specifically those of the Nação Portuguesa and the saltanat-i- khudadad on Goa's population.

Introduction: Need for reappraisal of the historiography of the Captivity, the deportation of Kanara's Goan Christian immigrants by Tipu, as projected by earlier authors, and of Tipu by British historians.

**Ch 1. An Alliance of King with God: The complex political- religious scenario of 18th century south India; a ruler's use of religious beliefs in bolstering political power. ** Ch 2. A Tale of Two Islands...: Srirangapatna and Goa-islands of enslavement; the Inquisition and auto-da-fé. ** Ch 3. And that of a Third: The East India Company's loot of Bengal; Haidar Ali's reaction. **Ch 4. Exodus Goa: "Of what use is to you, O Goa, the King of Portugal who treats you as a slave?" --Bishop Mateus de Castro, 1654; dramatic decline of Goa's economy; emigrations to Kanara.
** Ch 5. Extracting Honey from Stones: Growth of Kanara's Christian population; individual family histories; ** Ch 6. The Men in Cassocks and the Nawab: Christianity in the Kannada and Tamil regions; Haidar in Mangalore (1768).
**Ch 7. Kanara: Goa's relations with Kanara and the Ikkeris; Goa's forts at Mangalore, Kundapur, Honavar, and Gangoli. **Ch 8. Beyond Mysore: Annexation of Ikkeri and Malabar; forced translocations. **Ch 9. Haidar's Army: Transformation employing European tactics. **Ch 10. Hanging their Harps to Weep: Haidar's 52 English slave boys; military slavery- origins in Baghdad, employment in India before Haidar; the Christian dread of circumcision. **Ch 11. Haidar's chelas: Haidar's military slaves from Chitradurga, the Carnatic, and England; their training by circumcised English prisoners and sepoys. **Ch 12. The Hat Wearers and Others: Haidar's Christian soldiers; Tamils, Kannadigas, mestiços; the lack of fighting skills of Goan and Kanara Christians. ** Ch 13. A Tornado Defused: Haidar's death; Gen. Mathews's capture of Nagar and Kanara in 1783. **Ch 14. The Shadow of God over Mangalore: Tipu in Mangalore; a series of disasters that threatened his rule while he was there-the French withdrawal, the decimation of his cavalry by monsoon rains, Fullarton's capture of Coimbatore and Palghat; the fall of Kannur.
**Ch 15. Legitimizing a Legacy: The politics of legitimization in Indo-Muslim states; Tipu's strategy; the tiger emblem; the politics of temple patronage and demolition; the nasrani (European, Christian). **Ch 16. To God, and towards Him only: The bitter Muslim-Portuguese rivalry along India's west coast; **Ch 17. An Appropriation of nasranis: The enslavement of the Christians, Kodavas, and Nairs; suppression of Christianity. **Ch 18. The Making of Myths: The Captivity-the debunking of associated myths; analyses of charges made against the Kanara Christians; Christian soldiers deserting from Tipu's army to join the English. **Ch 19. Early One Morning: The Captivity: statistics and individual stories; the date. Ch. 20. The Long and Winding Road: Rediscovering the road to exile-the main road connecting Kanara to the interior. Just short of 300 kms. Ch 21. Srirangapatna, City of Exile: Refuting Abbe Dubois; Christianity goes underground; the Virajpet records. Ch 22. The Sultan's Slaves: The lashkar-i-ahmadi composed on Kanara Christians and Kodavas; evidence from the Barkur Manuscript; women slaves; Scurry's wife. Ch 23. A Goan Coup of Sorts: The failed coup of 1787-the first planned revolt by Indians against European rule 70 years before the so-called "Indian Mutiny"; Tipu's suspected role. Ch 24. Heavy is the Crown: Tipu's Malabar campaign of 1789; Tellicherry as a refuge for Kanara Christians. Ch 25. On a Night of a Million Stars: February 6, 1792; freedom in Kodagu; stirrings of revival in Kanara. Ch 26. The Gathering Storm: The build up to the end. Ch 27. May 4, 1799: The bitter end; Tipu's death. Ch 28. Missing out on Martyrs: The politics of martyrdom; its absence in the post-1799 reconstruction of the Christian identity. Ch 29. This Land is my Land: Rehabilitation; re-writing history; fictional heroes.

Bibliography: 15 pages listing references on a range of topics and covering a period of centuries-ideal source material for future scholarship on these subjects. Those interested in listed e-books may contact the author for copies of those which are copyright-expired. 'Slaves of Sultans' : 432 pages, 147000+ words , Glossary (of Kannada, Konkani, Portuguese, Sanskrit, Persian, Arabic-origin words), Select chronology, Index, Nine pages of maps.

Write Comment
|

E-Mail
|
Facebook
|

Twitter
|

Print