Ailing George Fernandes due for honour, June 3, 2018
Mangalore Today News Network
Mangaluru, May 19, 2018: A media note received from the Hind Mazdoor Kisan Panchayat (HMKP), which was founded in Mumbai, by George in the year 1983, informs that it has taken the initiative of celebrating 88 th birthday on June 3rd, Sunday, of the well known labour leader and politician hailing from Bijey, Mangaluru, at the Mysore Association Auditorium, Bhaudaji Road, Matunga, Mumbai. Justice M.N. Venkatachalaiah, Former Chief Justice of India, has consented to be the Patron- in-Chief of this significant event.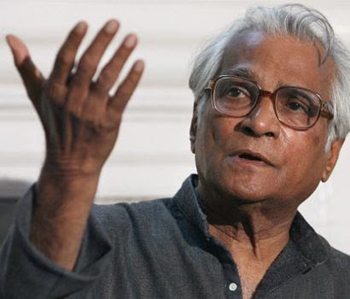 Public from all walks of life and many institutions all over India have received caring concern from George Fernandes a giant 'son of the soil' in every sense. The Konkan Railway stands out as a great achievement during his eleven-month stint as Railway Minister in 1989, Mumbai has become more accessible from Mangaluru. George Fernandes has been suffering from Alzheimer's disease and is bed ridden for about a decade, he is very rarely remembered recently. He is one person with a stature who should be accorded ' Bharat Ratna' award now. It is a unique occasion and an opportunity to show gratitude for the selfless services rendered by him to the cause of workers in the industrial sector, Government institutions, city corporations, railways, public sector industries and to the public at large.


The HMKP without any allegiance or linkage to any political party, on George's 88th Birthday, June 3, a Souvenir, highlighting some of his outstanding achievements during the active public life of this great personality will be released. An express request for your earnest contribution is made, for more information contact :General Secretary ( Mr Subhash Malgi -09869001860 ) HMKP, Plot No. 275 Pant Nagar, Ghatkopar (East) , Mumbai-400075,Ph: 022-21020008, Email : hmkpindia@gmail.com.

Brief profile : George Fernandes, was born on June 3, 1930 at Bejai, Mangalore, George is eldest of six children, his siblings are Lawrence, Michael, Paul, Aloysius, and Richard. George speaks ten languages, Konkani is his mother tongue. He is extremely fluent in Hindi and English. Calling him one of the "greatest and bravest" fighters for civil rights during the Emergency era, friends, supporters and public have pitched for awarding Bharat Ratna to the veteran socialist leader, which he fully deserves.

He did his early studies at St. Aloysius College, Mangalore, finishing in the year 1946,in 1948 something inspired him and he joined the Socialist Party and plunged into the trade union movement. He then moved to Mumbai in early 1950. There he organized trade unions for several types of workers ...He was President of the All-India Railway Men's Federation. He defeated S.K. Patil of the Congress in the year 1967, in the Lok Sabha elections from Bombay South earning the title of 'George the Giant Killer'. During the Emergency declared on June 25th 1975, he went underground for a full year, but got elected in 1977, while in Tihar jail in New Delhi, to the Lok Sabha from Muzafarpur in Bihar with a massive margin. He has rendered yeoman services as Union Minister of Industries, Railways and Defence. He was instrumental in doing away with the legal requirement of Probate of Will for the Christians in India in the year 2002. It is sad to note that this lion heart called 'George' is ailing for a decade now.

A virtual treasure trove of his collection of Books, writings, documentation and so on numbering more than 4000 thousand pieces were on March 11, 2013, donated to the St. Aloysius College library Mangaluru and a special section created in the name of George Fernandes. George and his family members decided to donate the huge library in different languages and many many titles, in particular "Record of Indian Parliamentary Proceedings" spanning half a century and many precious documents to this great Catholic Institution of Mangalore and 'alma mater' of this super human for human enlightenment. George Fernandes' contribution to humanity will live in millions of hearts across India forever.

Write Comment
|

E-Mail
|
Facebook
|

Twitter
|

Print