After 122 years 'Jumping spider' found on Konkan coast
Mangalore Today News Network
Mangaluru, May 26, 2017: Reports indicate that a team of Indian researchers has finally 'rediscovered' a jumping spider, first described in 1895 from a single specimen then found in Burma (now Myanmar).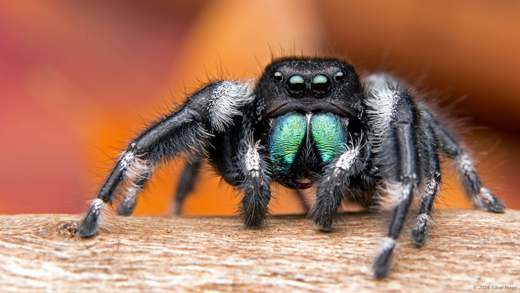 The spider, a species called Brettus cingulatus, was discovered in India in a garden that surrounds one of the researchers, Rajashree Khalap's beach facing holiday home in Nagaon, a coastal town in the North Konkan region of Maharashtra.

Environmentalist and surgeon from Moodabidri, Dr Krishna Mohan, who was part of the research team, told media, "Brettus cingulatus was 'rediscovered' and reported from India, a whopping 122 years after it was first described in 1895, and also reported as a new record from two other countries as well -Bangladesh and Malaysia -owing to our research."

Dr Mohan explained that while researching the species, the team realized that another related species, called Brettus albolimbatus, was not a separate species at all, but rather a female Brettus cingulatus - a fact which had been overlooked by other arachnologists in the country, some who even photographed the two together.

"Not only was Brettus cingulatus `rediscovered' (in a manner of speaking; the spider had since been photographed on multiple occasions, by several amateur nature photographers and posted on various fora, except that no one bothered to find out if it had a name, never raised questions, nor collected a specimen which could be identified by an arachnologist) from - and in - India, 122 years after Thorell (Swedish arachnologist Tord Tamerlan Teodor Thorell [1830 1901]) first described it. We also ended up reporting the species from Bangladesh (Raiyan Ahmed), and Malaysia (Nicky Bay) once we knew what B cingulatus looked like," Dr Mohan said.

Recommended By Colombia

This discovery spans three countries, two regions - South and Southeast Asia - and united two disparate species as one, nearly a century after the two species were erroneously described as separate ones.


The paper documenting this researh was published in 'Peckhamia', a globally renowned, peer-reviewed international scientific journal dedicated to the study of jumping spiders.


Known for 4 eyes : Jumping spiders are over 600 described genera and more than 5,800 described species, making it the largest family of spiders with about 13 per cent of all species. They are known for the best vision among anthropods and use it in courtship, hunting and navigation.Jumping spiders are generally recognized by their eye pattern. All jumping spiders have four pairs of eyes, with the anterior median pair being particularly large.

Write Comment
|

E-Mail
|
Facebook
|

Twitter
|

Print