Administration tardy in solving sand removal issue: Bhat
Mangalore Today News Network
Udupi, Oct 20, 2018: K. Raghupati Bhat, MLA, said on Friday that the district administration was not interested in solving the problem of sand removal from Coastal Regulation Zone (CRZ) and non-CRZ areas in the district.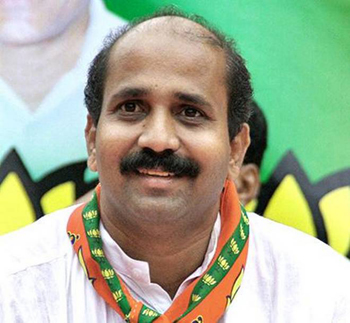 Addressing presspersons here, Mr. Bhat said that though Chief Minister H.D. Kumaraswamy had ordered that sand should be made available from October 15, it had still not been implemented in Udupi district. Both Mr. Kumaraswamy and Udupi district in-charage Minister Jaimala had responded positively to the problem of sand removal.

But Deputy Commissioner Priyanka Mary Francis was only bothered about the guidelines of the National Green Tribunal and officers were needlessly complicating the issue. "If Ms. Francis cannot solve the problem of sand removal, the government should transfer her and get a new Deputy Commissioner who can deal with the issue," he said.

Illegal sand extractors were removing sand clandestinely. The officers in the Department of Mines and Geology did not want the problem to be solved as it would stop the "hafta" (hush money) they got from illegal sand extractors. But this did not mean that Ms. Francis was involved in corruption, he said.

Mr. Bhat said that the district administration wanted to give permits to 25-30 persons as an immediate measure to remove sand. But this was not acceptable. It should give permits to all 171 persons who held permits earlier because if some were given permits and others not, those who did not get would approach courts and get a stay order.

The administration should also simplify the rules regarding installation of GPS equipment on trucks carrying sand in the district. The administration should realise that workers in the construction sector had no work as the sand removal process had not yet started in the district this year.

He questioned why the administration had directed the Assistant Commissioner to identify sand dunes. The Union Ministry of Environment and Forests (MoEF) had only stated that the seven-member panel under the Deputy Commissioner should take all decisions with regard to removal of sand.

"Only the illegal sand extracting lobby and m-sand lobby are benefiting from the delay in allowing sand removal," he said.

All MLAs and MLCs of the district and members of the construction sector would participate in an indefinite dharna in front of the Deputy Commissioner's Office here from October 25, if the sand removal problem is not resolved by then, Mr. Bhat said.

Courtesy:The hindu

Write Comment
|

E-Mail
|
Facebook
|

Twitter
|

Print