AWBI Animal Welfare Board of India, imposes SC orders on local traditional Kambala
Mangalore Today News Network
Mangaluru, Nov 16, 2014: The Apex Court's ban on the exhibition and training of bulls as performing animals has been extended to Kambala by the Animal Welfare Board of India (AWBI), Chennai. This has cast a shadow on the Shirva Kambala to be held on November 15, Saturday. The worst fears of patrons of traditional sport Kambala (wetland buffalo race), widely held in coastal Karnataka, has come true.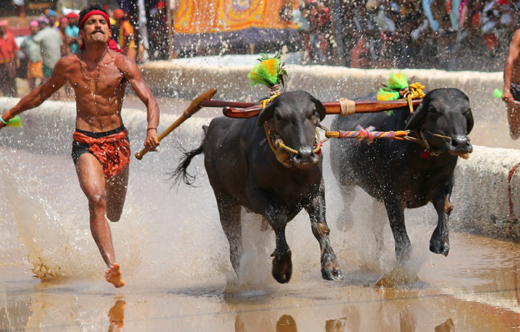 The Chennai-based body has directed state chief secretary to issue directions to all enforcement authorities to take action against those to violate Para 77 of the SC order and also Prevention of Cruelty to Animals Act, 1960. AWBI secretary in charge S Vinod Kumar told TOI: Kambala held anywhere in the state or outside is banned as per SC order. The ban is very wide and absolute. The SC has gone deeply into these matters and also anatomy of animals like cattle. These acts are not animals natural instinct and carry out a "flight response" due to fear. A buffalo is not meant to run.

He further noted: Irrespective of the fact that Kambala Academy has stated to have said the sport is being organised scientifically following guidelines laid down in PCA Act. Such races will definitely come under the ambit of cruelty under Section 3&11(1) of the Act and cannot be conducted. Permission should not be granted for these races and conducting them will be tantamount to contempt of court.

Though the practitioners of the sport believed the coast is somewhat clear for Kambala, according to their own interpretation of the SC judgment, this AWBI dikat has dashed their hopes.

Kambala expert K Gunapala Kadamba maintained that the SC judgement does not have anything about Kambala. "We have brought in so many reforms in the sport which has reduced cruelty. It's about the tradition and culture of a region. Kambala is not a recent phenomenon. One has to understand its historical significance and how it is embedded in the cultural ethos of the region.

So popular is Kambala that it is also held as part of the annual Karavali Utsav that showcases the culture of the coastal region. About two year back, state government gave Rs 1 crore to promote the sport. Kambala will be documented as a cultural activity of the state, former CM Sadananda Gowda had promised.

Kambala, a typical agrarian activity of preparing the field for sowing, is derived from the Tulu words 'Gampa Kala'. "Owners of buffaloes would pool in their resources to ensure the levelling of large tracts of agricultural land. An offshoot of this practice was to hold races for able buffaloes and reward them. A further offshoot of the traditional Kambala are the competitive ones,'' says Kadamba.

While traditional Kambalas numbering over 100 are held from November to mid-December, especially Kundapur and Udupi, over 20 competitive Kambalas are organized from November end and they go on till April. Over the past four decades, the Kambala has gone on to become a leading folk sport in this part of the state. Even floodlit kambalas are organised.

Abhayachandra Jain, Minister of State for Fisheries, Sports and Youth Services said: I have not read the AWBI circular. But if it is banned by SC, we all have to follow the law of the land. I will discuss this matter with Chief Secretary and see if there is any way out of it without violating the SC directive. But in finality, I should say we all have to follow laws and rules.

Deputy Director, Animal Husbandry Department, Udupi District issued orders on Friday banning Kambala stating that it violated provisions of PCA Act. Those who violate the order would be dealt according as per the provisions of the Act, the deputy director said. Kambala has been organised in Udupi district starting from November 15 to March 28, 2015. This is set to be a damper for all local enthusiasts and culture buffs.


Write Comment
|

E-Mail
|
Facebook
|

Twitter
|

Print