ATM cash shortage hits several states, sends RBI, Govt in huddle
Mangalore Today News Network
New Delhi, Apr 17, 2018 : The Centre and the Reserve Bank of India (RBI) have stepped in to tackle the shortage of cash in several states. Despite currency flow in the economy being higher than the pre-demonetisation level many states have reported shortage of cash over the past few days.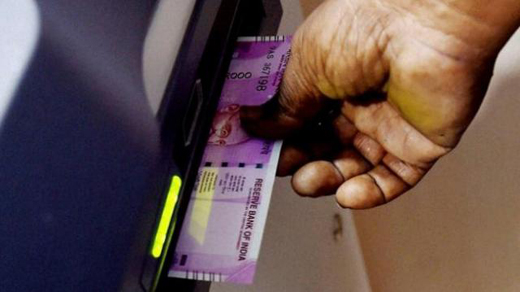 Assam, Andhra Pradesh, Telangana, Karnataka, Maharashtra, Rajasthan, Uttar Pradesh and Madhya Pradesh are the most affected states. RBI sources have said that "higher than normal withdrawal of cash" in these states have led to acute shortage of cash.

The sources in the government said that occurrence of various festivals like Baisakhi, Bihu and other harvest festivals which also mark the lunar new year recently might have pushed the demand for cash in the affected states.

Interestingly, there has been a rise in demand for cash in Karnataka, which goes to poll on May 12. More cash is supposed to be in play as campaigning warms up further. Cash crunch was seen in Jammu and Kashmir also. An angry mob vandalised an ATM kiosk in Jammu and Kashmir's Kupwara district as several ATMs had gone dry there.

The RBI has stepped up supply of cash to these states. The situation is likely to return to normal soon, the RBI sources said.

The finance ministry held a meeting with the RBI officials last week to ensure that there was no large-scale hoarding of cash which might set in panic among people. The ministry officials also held consultations with state officials and bank heads in the wake of shortage of cash.

The finance ministry officials said cash availability is a dynamic situation. If one state registers unusually higher demand, supply to other state(s) is curtailed for some time.

For example, when Assam was celebrating Bihu on Saturday, there were extra withdrawals a few days prior to the festival. So, the cash supply to some other states was reduced in volume. But normal supply has now resumed and the situation will return to normal soon, said a finance ministry official.

There is another reason for cash shortage. The new Rs 200 notes. In some of the states, recalibration of ATM machines for Rs 200 notes have not been completed leading to shortage of cash.

In some other states, the demand for smaller denomination was higher due to the larger amount needed to pay harvest season wages. On the other hand, the highest denomination Rs 2000 notes were short in supply in some states.

A senior RBI official said, "Prior to note ban on November 8, 2016, the total value of Rs 500 and Rs 1000 denomination notes in circulation was Rs 17.74 lakh. Compared to that over Rs 18 lakh crore worth of high denomination notes are in circulation today."

Interestingly this challenges the government's own claim that post-note ban, the use of currency has gone down and more digital transactions are taking place.

This being a big election year with several BJP-ruled states set to vote for the next government in 2018. The issue was quick to take political overtones. Some of the Congress leaders in Madhya Pradesh hit out at the NDA government for cash shortage.

Responding to Opposition's criticism, Madhya Pradesh Chief Minister Shivraj Singh Chouhan, said, "About 16.5 lakh crore notes were printed and circulated in markets. But where are Rs 2000 notes going? Who is trying to create a cash crunch? This is a conspiracy to create problems and state government will take strict action on it. We are in touch with centre also."


Write Comment
|

E-Mail
|
Facebook
|

Twitter
|

Print