A film, 'Kanorayana', to depict SKDRDP support for women
Mangalore Today News Network
Ujire, Oct 21 2017: Speaking after showing clapboard for the shooting of the film 'Kanorayana,' which would depict the success stories of Sri Kshethra Dharmasthala Rural Development Project (SKDRDP), its problems and its challenges.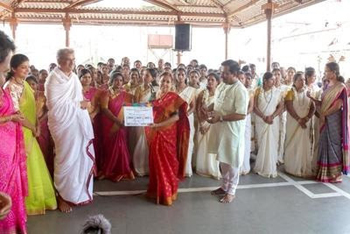 He said Dharmasthala Dharmadhikari Dr D Veerendra Heggade said villages can be transformed if women are transformed and a country can be transformed when villages are transformed. Stating that the aim of the SKDRDP was to empower the rural women, he said that project has succeeded in drawing the attention of the world. SDM Educational Society Secretary D Harshendra Kumar switched on the camera.

'Kanorayana,' a Kannada film, is being produced to commemorate the golden jubilee year 2018, of Veerendra Heggade's ascension to peetha of Sri Manjunatha temple. Heggade had ascended the peetha of the temple on October 24, 1968, at the age of 20.

Giving some details about the film, the film director T S Nagabharana said that 'Kanorayana' will create history in Sandalwood as it is the first film to be crowdfunded by 20 lakh self-help group (SHG) members.

The crowd-funding by SHG members was the brainchild of SKDRDP executive director L H Manjunath.

However, the credit of the first film to be crowd-funded goes to 'Manthan,' directed by Shyam Benegal in 1976 wherein five lakh farmers from Gujarat contributed Rs 2 each to depict the white revolution brought out by Verghese Kurien, Nagabharana added.

'Kanorayana' will be shot in and around Dharmasthala and later at Belavadi village ('Kanoru' in the film) in Chikkamagaluru. It will depict challenges faced by the residents of Kanoru. The film of two hours duration is likely to be shot in 50 days and released in January 2018.

The film is being made with a total budget of Rs 4crore. Incidentally, over 20 lakh out of 38 lakh SHG members under SKDRDP had become producers by paying Rs 20 each. Heggade proudly said that 20 lakh SHG members had become shareholders by paying Rs 20 each. The money collected was deposited in SKDRDP SHG Federation Trust, he added.

Skanda Ashok of Radha Rama teleserial fame will play the lead role in the film. The other actors include Sonu Gowda, Janhavi Jyothi, Hoysala and Prakash Pandeshwar. Nagabharana's wife Nagini Bharana will design the costumes, while son Pannaga Bharana will assist his father in film direction.

Write Comment
|

E-Mail
|
Facebook
|

Twitter
|

Print