39th Shramadan, one to go for 40 Weeks' Swacchata Abhiyan undeterred by rain in city
Mangalore Today News Network
Mangaluru, July 09, 2018: The rain did not deter the 39 th Shramadan of Ramakrishna Mission's Swacchata Abhiyan shramadan organized on Airport Road at Bondel, July 8, Sunday. The penultimate Shramadan was jointly flagged off by Dr. Harish Joshy, Retd. Professor, St. Aloysius College, Mangalore and Sri Kishan Srinivas Ammady, Employee at Infosys. Balakrishna Rai, Masahiro, Satish T Yekkur, Himmat Singh, Santosh Suvarna, Deepak Melanta and many others were present on the occasion, with the 40th one foreseen July 15, Sunday..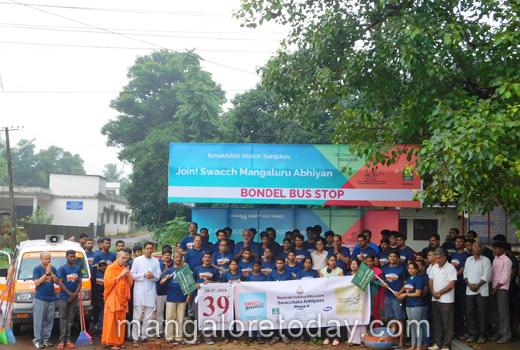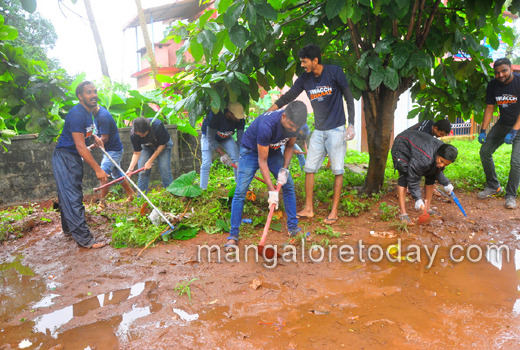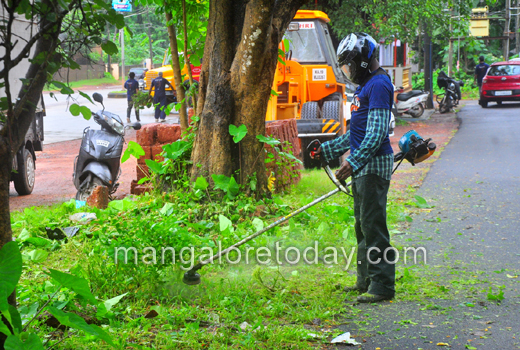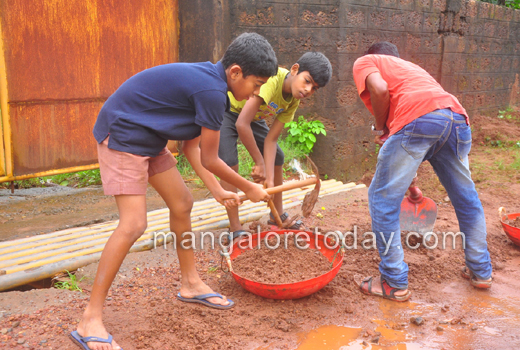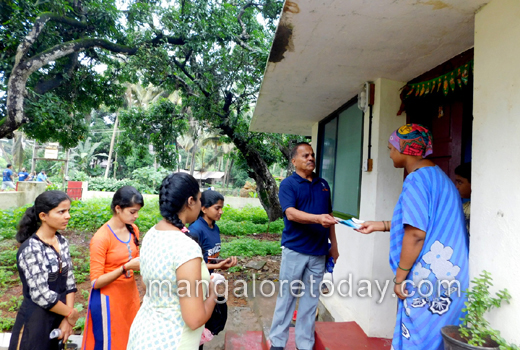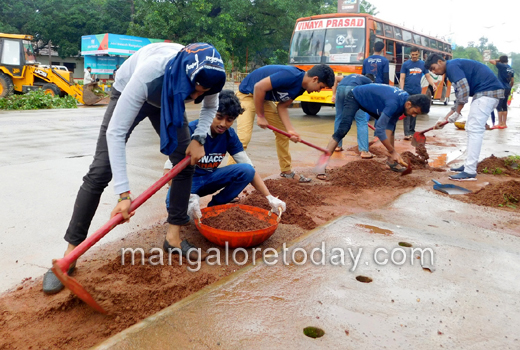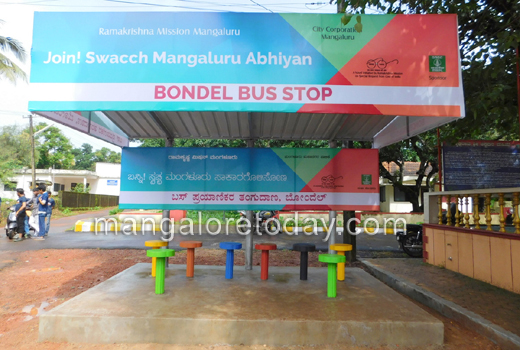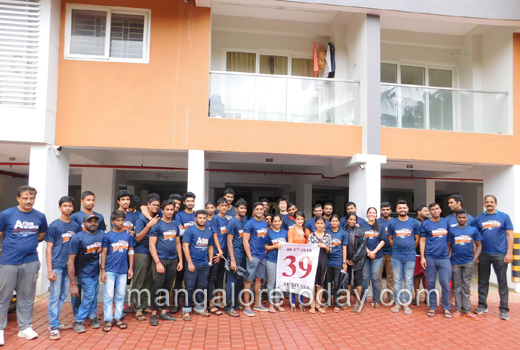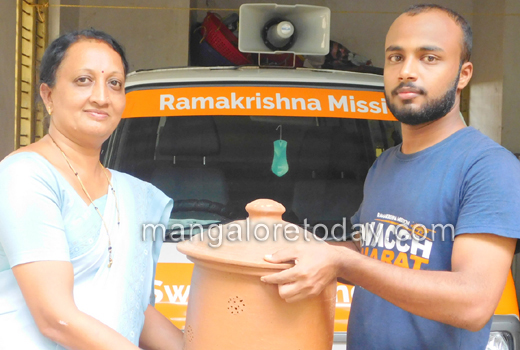 Speaking on the occasion Dr Harish Joshy said, "Environmental protection is a common responsibility. We are getting everything from nature. Hence we have to preserve nature. It is unfortunate that we don't feel responsible for conserving preserving our nature. Swacch Mangaluru Abhiyan is a welcome attempt and is creating awareness among the citizens." Sri Kishan Srinivas opined, "If we just wish that we should have the cleanliness and discipline seen abroad in India too, its not enough. Only government policies cannot make a nation better. Its upon each and every individual citizen that the success of the policy implementation stands. I was staying in US for last 8 years. Wishing to bring some change in India and contribute towards the society, I have returned to India. I was thrilled to note the saga of Swacch Mangaluru in the last 4 years."

Cleanliness: Shramadan was carried out near PWD office at Ashwatta Katte and surrounding areas. After flagging off, volunteers cleaned the surroundings of the bus shelter. Volunteers were divided into different groups under Dilraj Alva and cleaned several areas on Airport road. Sand accumulated on the concrete road obstructing vehicles was removed. Drains were cleared of the garbage, thus enabling easy movement of rain water down the drain. A spot that was littered with garbage and heaps of sand was cleared. Overgrown weeds and grass were removed near Ashwattha Katte. Heaps of sand lying on the footpath were also removed helping the pedestrians thereby. Illegal banners on the airport road were removed. Dedication of New Bus Shelter: Passengers waiting for buses had only the shade of peepal tree for roof near PWD office at Bondel before. Upon the request of localites, New bus shelter was erected on the spot and it was dedicated today. It has all the facilities like good roof, seats and tiled ground. Dedicated efforts of Shubhoday Alva, Umanath Kotekar, Ashok Subbayya and many others were behind the creation of this public utility.

Clearing Heaps of Garbage at midnight: Last Sunday, Shramadan was carried out at Bikarnakatte and garbage was cleared. It was followed by visit to several fast food shops and urging them not to litter and help in maintaining the city clean. Since then daily, volunteers were monitoring the area to check if the shop vendors litter the area again. They have successfully stopped hotel staff from throwing garbage and dirt in the spot and have forced them to clean the spot littered by them. Local public have appreciated the efforts of the volunteers. Volunteers also cleaned a spot prone to littering near a temple of Koragajja in between Padavinangady and Bondel church. Suma Kodikal, Chethana
and many other volunteers participated in this without fearing rains. Suresh Shetty and members of Nivedita Balaga visited houses and shops in the area and created awareness among them.

Segregation and disposal of Garbage: Volunteers of Swacch Mangaluru Abhiyan are visiting each every house informing them about segregation of wet, dry waste as also how to compost the wet waste generated in their house by using Pot-compost and use the manure thus produced in their gardens. They are also distributing bags for collection of dry waste and arranging for their disposal monthly once by collecting through scrap-vendors which is a source of income for each and every household. This was carried out on experimental basis in Jeppu, Mangala Nagar and other areas. Abhishek V S, Smt. Rathna Alva, Bhanumathi, Yashoda Rai, Tejaswini and others participated in this. Rakesh Jayaram Suvarna, Praveen Shetty, Yogish Kayarthadka, Punith Poojari, Satish Kenkanaje, Mokshitha H P and many others actively participated.

MRPL and Nitte Institutions are sponsoring the drive.


Contact – Swami Ekagamyanandaji, Convener, Ramakrishna Mission Swacchata Abhiyan at 9448353162 for more details.

Write Comment
|

E-Mail
|
Facebook
|

Twitter
|

Print