2 more weeks of COVID-19 lockdown, PM Modi and states agree In meeting
Mangalore Today News Network / NDTV
New Delhi, April 11, 2020: Prime Minister Narendra Modi, who held a four-hour meet with at least 13 chief ministers on video conference today, has indicated that the lockdown amid the COVID-19 pandemic would be extended by two weeks after considering the requests of the chief ministers, who preferred a longer containment period. The lockdown was scheduled to end on Tuesday. PM Modi also marked a shift in tackling the pandemic, from saving lives to saving both lives and the economy.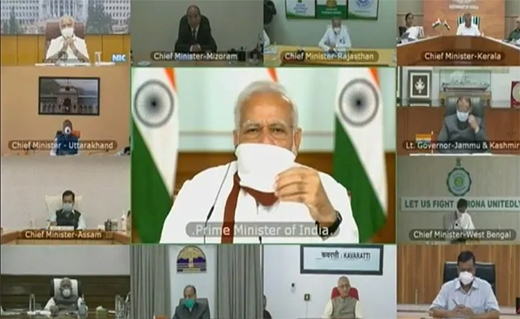 Three weeks ago, while announcing the lockdown, PM Modi had said, "Jaan hai toh jahaan hai (the world exists if life exists)." Towards the end of the meeting today, however, he stressed on "Jaan bhi jahaan bhi (both life and economy are important)" as the lockdown has put severe stress on businesses.

Here's your 10-point cheatsheet to this story:

1: "PM has taken correct decision to extend lockdown. Today, India's position is better than many developed countries because we started lockdown early. If it is stopped now, all gains would be lost. To consolidate, it is imp to extend it," Delhi Chief Minister Arvind Kejriwal tweeted minutes after the meeting.

2: Most chief ministers who attended the video conference pointed out that they may not have the massive resources needed to deal with a spurt in COVID-19 cases if the lockdown is removed sooner. The chief ministers asked the centre for relief packages.

3: "Extend the lockdown. We're not short on infrastructure to deal with coronavirus, but the question is of implementing policies effectively. PM Modi has always welcomed the suggestions of states," Madhya Pradesh Chief Minister Shivraj Singh Chouhan said.

4: "It is important to extend the nation-wide lockdown... We need a common relief policy for rabi (winter) crop," Rajasthan Chief Minister Ashok Gehlot said. West Bengal Chief Minister Mamata Banerjee said the lockdown extension should be done in a "humane and practical" manner, adding the economy of her state has suffered.

5: PM Modi is likely to give a televised address to the nation again to announce the lockdown extension. At the end of the four-hour meet today, PM Modi said he will allow industries and construction work to reopen in a graded manner. Other restrictions are also likely to be eased in a graded manner and another economic package for farmers is expected.

6: PM Modi indicated that farmers would be allowed to sell to consumers directly from their fields if wholesale vegetable markets or mandis are shut down. For example, the mandis in Mumbai and Pune are closed. This direct selling will be needed to feed a nation of 1.3 billion and prevent inflationary trends, sources said.

7: The Agricultural Produce Market Committee (APMC) Act that governs how mandis function will be amended to enable farmers to skip the supply chain and reach consumers directly, sources said.

8: Odisha and Punjab have already announced an extension of the lockdown. The Bihar government in a letter to the centre has raised no objection to extending the lockdown; however, it wants an exception for rural construction and flood relief work to continue, sources have told NDTV. Bihar saw massive floods last year and rebuilding projects are still going on.

9: The highly infectious COVID-19 has killed 239 people in the country, with 40 new deaths reported in the last 24 hours. The total number of positive coronavirus cases is now 7,447.

10: The highest number of cases has been reported from Maharashtra, with 1,574 people testing positive for the novel coronavirus that was first detected in China in December. A novel virus is one that has not been previously identified in humans.



Write Comment
|

E-Mail
|
Facebook
|

Twitter
|

Print