19th DK Kannada literary convention at Polali August 2 and 3
Mangalore Today News Network
Mangalore, Aug, 01, 2014: Deputy Commissioner at a meet held in his office on July 31 announced, Dakshina Kannada district 19th Kannada literary convention will be held at Polali Shankaranarayana Shastry Vedike in Polali Sheenappa Heggade Sabhangana, on the premises of Shri Rajarajeshwari Temple, Polali on August 2 and 3.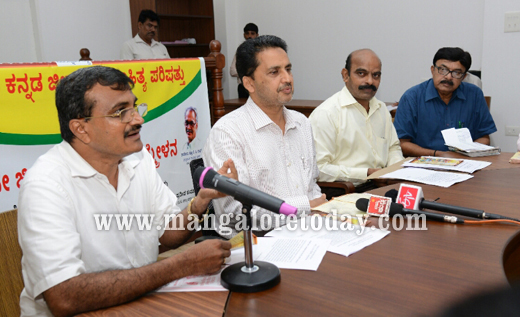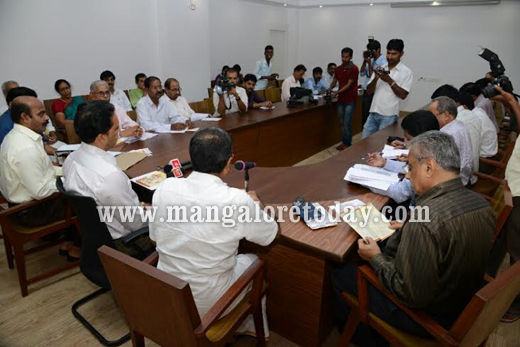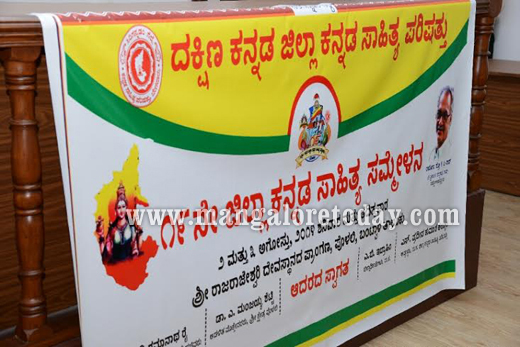 Dakshina Kannada district Sahitya Parishat President Pradeep Kumar Kalkura stated the president of the district literary convention will be Kannada software poineer Prof K P Rao.

The theme of the literary meet would be 'Jeevanakramada pallata matthu maulya rakshaneya savalugalu' (changing lifestyles and challenges faced to safeguard our values) The inaugural procession will start from Polali bridge. Zilla Panchayat Member Jayashri KA will inaugurate the procession. Polali temple hereditary administrator Chera Suryanarayana Rao and Taluk Panchayat member Gunavathi will be present.

Hoisting the national flag, followed by hoisting the Kannada Sahitya Parishat and Literary convention flag, will be held at 9 am. The inaugural function at 9.45 am will be marked by 'Panchaveenavadana,' an ensemble of five Veenas by Pavana B Achar and troupe, followed by State anthem and raitha geethe. 'Taranga' Kannada weekly Managing Editor Sandhya S Pai will inaugurate, Minister for forest, ecology and environment B Ramanath Rai will preside. MCC Commissioner Mahabala Marla, Karnataka Tulu Sahitya Academy President Janaki Brahmavar, Karnataka Konkani Sahitya Academy President Roy Castelino and Udupi district Kannada Sahitya Parishat President Neelavara Surendra Adiga will be the chief guests.
Former district Kannada literary convention president Dr Shimanthoor N Narayana Shetty will deliver his speech which will be followed by the present year's district Kannada literary convention president Prof K P Rao's speech. Polali Ramakrishna Tapovana President Swami Viveka Chaitanyananada will grace the occasion.

Minister for Health and Family Welfare U T Khader will inaugurate an exhibition, MP Nalin Kumar Kateel will inaugurate the book expo and Litterateur Dr Erya Lakshminarayana Alva will release the book series. Art exhibition and heritage expo will be inaugurated on the occasion. Deputy Commissioner A B Ibrahim will inaugurate B M Idinabba Kannada computer demonstration room and Department of Kannada and Culture Director K A Dayananda will inaugurate the cultural programmes.

In the 'Vidvath Sanmana' felicitation programme to be held during the inaugural function, Scholar Kodimajalu Anatha Upadhyaya, Legal expert Nooyi Shrinivas Rao, Theatre person Sadanad Suvarna, Yakshagana scholar Dr M Prabhakar Joshi, Yakshagana Bhagavath Agari Raghuram, researcher Prof A V Navada and folk scholar Dr Palthadi Ramakrishna Achar will be felicitated.
Karnataka Bank Managing Director P Jayaram Bhat will felicitate the achievers. Various sessions and cultural programmes will follow. Interaction with Literary convention President will be held at 4 45 pm.

Second day - Aug.3 : Student poet's symposium will be held at 8 30 am. Special lectures will be held at 9 30 am. Various sessions will be held from 12.15 pm. An open session will be held at 2 30 pm, presided by Pradeep Kumar Kalkura. A felicitation programme will be held at 3 pm, presided over by Kannada Sahitya Parishat former President Harikrishna Punaroor. Alvas Education Trust, Moodbdiri President M Mohan Alva will felicitate. SDM Educational Institutions Secretary Dr Yashovarma and others will be the guests.

Valedictory : The valedictory programme will be held at 4 30 pm. Kannada Sahitya Parishat President Pundalik Halambi will preside. Minister for Youth Empowerment, Sports and Fisheries K Abhayachandra Jain will felicitate the literary convention president Prof K P Rao. Karnataka Bank Chief General Manager M S Mahabaleshwar Bhat will release the souvenir.

Dakshina Kannada Zilla Panchayat President Asha Thimmappa Gowda will be the guest of honour, DKZP CEO Tulasi Maddineni, Sriram Group of Companies Director Ronald D'Souza and Kasargod district Kannada Sahitya Parishat President S V Bhat will be the chief guests, Litterateur Dr Sunitha M Shetty will deliver the valedictory address.

Special arrangements : Arrangement of buses has been made. Every 10 minutes, buses will ply from Mangalore and B C Road to the literary convention venue at Polali, Kalkura said. Deputy Commissioner A B Ibrahim said that the literary convention holds significance in the wake of popularising Kannada as the administrative language in the district. There is need to give more stress on the usage of Kannada in government offices, he said and added that the district administration will extend its full support to the district literary convention.

ADC Sadashiva Prabhu, Polali Sri Rajarajeshwari Temple Moktesar Ulipadiguthu Taranatha Alva and others were present to stramline all matters.

Write Comment
|

E-Mail
|
Facebook
|

Twitter
|

Print