18 months on, access road to M'lore airport reaches nowhere
Mangalore Today News Network
Ronald Anil Fernandes

Mangalore, Oct 7, 2014: On May 22, 2010, the first crash fire tender (CFT) took about four to five minutes to reach the air crash site (which claimed 158 lives), as it could not negotiate a curve on the road between the Mangalore airport and the valley.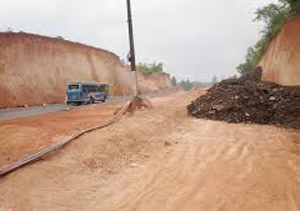 Four years later, in the event of a similar disaster, the first fire tender may take not less than 15-20 minutes to reach the spot. Reason: the tardy work on developing better access to the valley. The Karnataka Road Development Corporation Limited (KRDCL), the agency entrusted with the task, has missed the deadline for the project which was launched about two years ago.

As on date, the access road has been cut off and the work on the new road may take at least another six months to complete, according to officials. On May 22, 2010, the firemen took about five minutes to reach the crash site through Dakkan Park (at the end of runway).

However, now, the existing access road has been cut off to lay the new road and about a 15-metre patch of hillock has been dug to facilitate the work. In case of an emergency at the same crash site, it will take not less than 20 minutes to reach the spot after a detour through the main road leading to Mangalore, deviating at Adyapady Cross, said an official on condition of annonymity.

The exit road from the airport that connects Mangalore Road too has more than six U-turns.

In the inspection report dated March 28, 2012, submitted to Dr Nasim Zaidi, the chairman of CASAC and Secretary, Ministry of Civil Aviation, Capt A Ranganathan, the Member of Civil Aviation Safety Advisory Council (CASAC), had said the access roads to the valley were very narrow and curved.

"The access road has a very sharp 'V' turn to reach the area where AIE-812 crashed," the report stated. When contacted, Mangalore Airport Director J T Radhakrishnan said he hoped the work would be complete by March, 2015.

"Though work started more than 18 months ago, various issues including land acquisition caused the delay," he said, adding that the pace of the project is now "reasonably fast." Meanwhile, sources in the KRDCL said that it had almost planned to terminate the contract awarded to a private construction agency, but dropped the move on its request. Having missed the deadline last year, the officer said, "by January-end, the KRDCL will get a clear picture of the project."

Apart from the May 22 crash site, more than six such spots are around the table top airport/runway where, in case of an emergency, even a fire brigade would take minimum 20 minutes to reach. A case in point is the deep valley between the existing runway and the old runway.

Write Comment
|

E-Mail
|
Facebook
|

Twitter
|

Print