'White Doves' reputed destitute care marks 25 years
Mangalore Today News Network
Mangaluru, Nov 01 2019: Mangaluru's admired 'White Doves' Psychiatric and destitute home, opened a modern state-of-the-art new facility in Nidel, Kulshekar, earlier in 2019. Destitute and abandoned humans in this rare institution can be considered fortunate, for they are receiving total quality care in this shelter. By God's grace and effort of largehearted humane people spreading cheer and hope equally without discrimination among all at this safe haven. On October 30, Wednesday this institution marked it's 25 silver years of service in a solemn, joyful manner.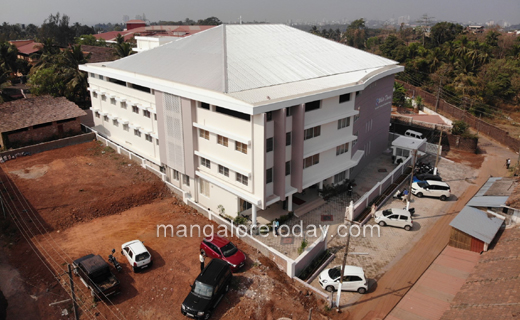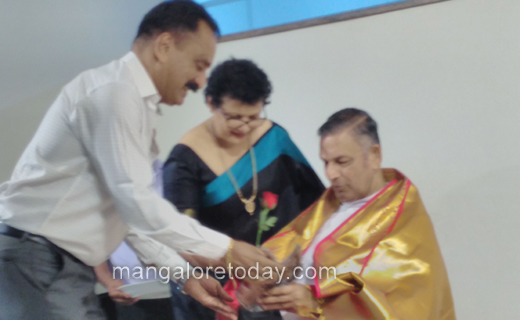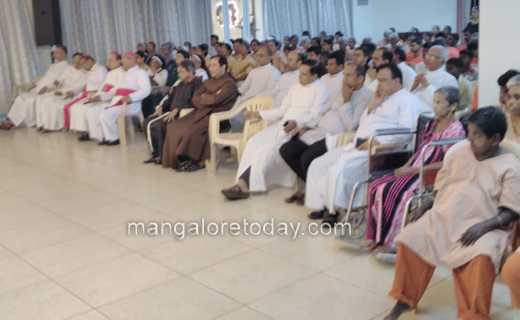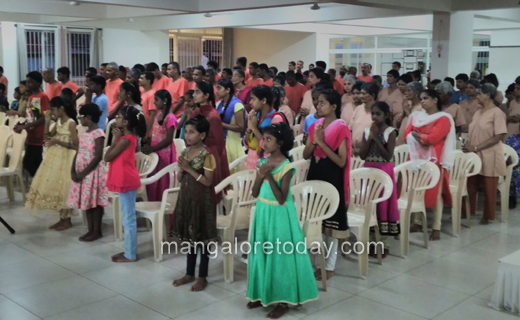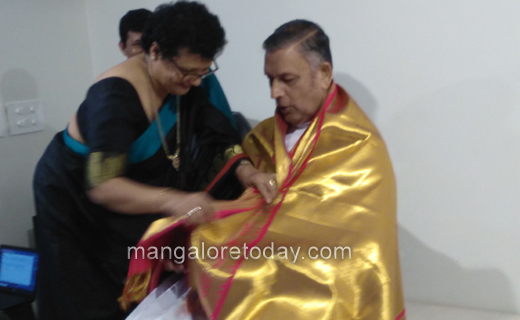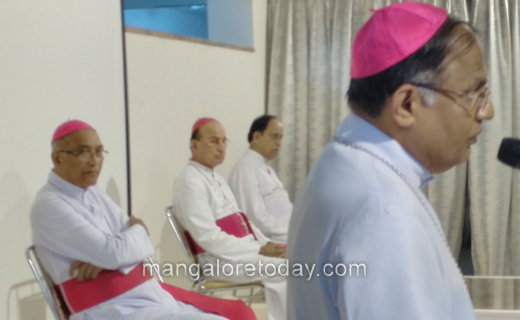 Blessings and Mass with a wide representation of priests, men and women religious, well wishers and contributors amidst the inmates was an occasion of gratitude and fulfilment to God and man. The fact that three Bishops graced the celebration spells out the wonder of the landmark silver jubilee - Bishop of Udupi Rev Dr Gerald Isaac Lobo, Bishop of mangalore Rev Dr Peter Paul D'Souza, Emeritus Bishop Rev.Dr Aloysius paul D'Souza.

On this day a special Golden honour was accorded to Rev Dr Victor Machado, Vicar of holy Cross Church, Cordel, Kulshekar who has just concluded 50 years of stellar service as a Ordained priest in the diocese, he was ordained in October 1969.

The tasteful function was spearheaded by Corrine & Vitus Rasquinha the founders, along with trustees with Rev.Denis Moras Prabhu, former VG of Mangalore diocese and the spiritual figure head of the institution. It was indeed a red letter day here. The inmates - men, women and hostel children with the staff present numbered around 250. The enthusiasm of around 40 children from the separate children's home added to the cheer of the day.

White Doves, has now completed 25 years, a fruitful mature venture in Mangalore and the festivities marked the special fervour with a palpable seriousness too. The humans sheltered here; picked up from the railway stations, bus stops, streets and garbage dumps and cared for, in Divine providential care are getting care and concern rarely seen. Among other works of 'White Doves', every evening at least 100 food packets are distributed to unfortunate at railway station, bus stands and streets who are sick, shelter-less and on the move.

The vision is 'compassion', sharing and caring - they who share, care. To follow the the inner spirit and do unto the least as we would want for our selves. To bring dignity to the discarded and unwanted human. To guide them back to life here and in the hereafter with head, heart and hand. 'White Doves' labour wholly to humanely protect the least, last and lost. White Doves have been regularly funding poor students, many have over the years benefited in education and a fresh start, from this generosity. People from all parts of India are seen at 'White Doves' - from Kashmir to Kanyakumari so to say, many languages are spoken but the in-house communication is mostly in Kannada, Hindi and Konkani per se. It's a wonder to behold honestly, ethically and morally the best care being showered without the least disparity amidst mutual care.

"White Doves" is a Trust generates true trust among all in need, a labour of love and compassion started in a humble way in the early 1990s. Helpless and unwanted people - the destitute, who had no place to go are given a new life. The shocking sight of sick, half naked, mentally challenged, exploited and misused ..... moved a small band of humane people here to do something with determination and make a difference - "White Doves" was thus conceived . Basically there are three trustees the power flows through them, namely: Corrine Rasquinha, Founder President, Jerome Coelho, Secretary and Treasurer and Vitus Rasquinha, Trustee, they have dedicated staff, volunteers and compassionate support. Commitment is an act, not a word here. This haven surely will attract concern and compassionate action in all human hearts bringing fulfillment in the intrinsic humaneness that human hearts bow to naturally.

Presiding over the programme, which was held after the Mass, Bishop of Mangalore, Rev Dr Peter Paul Saldanha said, "White Doves is an institution which in this region is synonymous with true care and concern for those who have no one; a home where the Almighty pours his love with miracles. By taking care of destitute and mentally ill, the institution is doing the most neglected work. It is true that with the support of well-wishers and many people, Corrine Rasquinha is leading this institution. But we must appreciate Corrine's efforts and sacrifice which is inspired by supreme power. She and her co-workers are angels for the destitute. The inmates are seeing God through her. She is a mother for all of them. The fruitful 25 years in service to the unwanted is a miracle that can not be explained."

Bishop of Udupi, Rev Dr Gerald Isaac Lobo said, "Spiritual power is manifested in founder Corrine. She is doing God's mission and spreading a universal love and care through service. It is not easy to bring destitute and mentally ill people under a shelter and care. The challenges are beyond all imagination, overcoming all challenges, White Doves service must be seen to be believed and in the existence of a Super power. The inmates of White Doves are sheltered and provided such a life, a well provided healthy living a standard for mind and body. which they would never have known. This social service here supports and encourages other people to extend humane service, and show sympathy on poor and destitute." The Bishop released a brochure with information on the "White Doves" work.

Along with the 3 Bishops, Rev Victor Machado, Vicar, Kulshekar, Fr Denis Moras, chaplain, White Doves and the Rasquinhas were present on the dais. Corrine Rasquinha gave an account of the 25 year journey which was astonishing, Keith Carvalho conducted the proceedings. Jerome Coelho thanked all those present, the evening laid bare the goodness at this rare shelter in the city.

Write Comment
|

E-Mail
|
Facebook
|

Twitter
|

Print