'Youth in rural areas need opportunities to realise talent, Prof C N R Rao
Mangalore Today News Network
Mangaluru, Feb 12, 2017: Delivering the Yenepoya Foundation lecture at Yenepoya University, Bharat Ratna Awardee C.N.R Rao, on Feb 11, Saturday, said that there were many people living outside cities, like Bengaluru and Mangaluru, who lacked the opportunities to progress in life. Youngsters in villages need the best education and opportunities to realise their innate intellectual talent.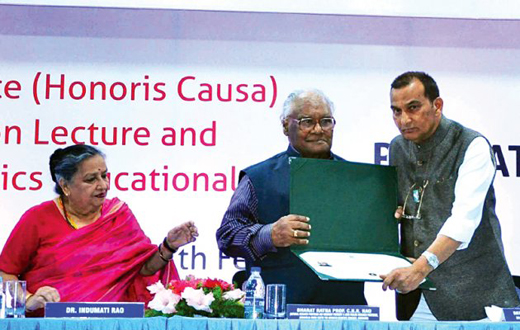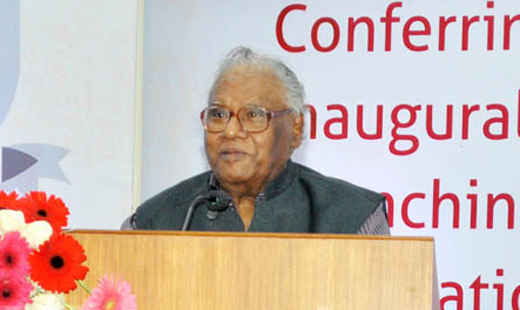 "There are 50 million people like this in the country. There will be at least 50 persons among them who have the talent to shine. Your (the educational institution) job and my job is to find such persons," he said. There was a need to promote education, science and innovation in rural areas, he said. Youngsters in rural areas are the future of India and their intellectual capacity should be unleashed.

"There is no need for the Prime Minister to advise us. These youngsters are so powerful they can change India and take care of it." Rao said that he spent 15% of his income for activities in rural areas to spark the imagination of young minds. On Feb 10, Friday, he and his wife, Indumati Rao, had an interaction with children in a school in Sullia. Rao said that the field of science was competitive and in scientific research, the county was far behind China, the U.K. and the U.S.

Earlier Chancellor of Yenepoya University Yenepoya Abdulla Kunhi conferred Prof. Rao with the Doctor of Science (Honoris Causa). Mr. Rao also inaugurated the Yenepoya Narcotics Educational Foundation of India on the occasion.

Prof Rao was of the opinion that, whenever there is a chance, the intellectual content in youngsters should be unleashed, for it leads to exciting experience by talking to them. He also advised the authorities at Yenepoya University to concentrate more on research.

He also complimented the university for setting up Yenepoya Narcotics Educational Foundation of India to create awareness about drug abuse, which he dedicated early in the day by launching the website of the foundation. The university conferred honoris causa (doctor of science) on Rao, which he was supposed to receive during the previous convocation of the varsity. Prof Rao's wife Dr Indumati Rao, Yenepoya University Chancellor Y Abdulla Kunhi, Mohammed Kunhi, VC Vijaykumar and Registrar Dr G Shreekumar Menon were present.

Prof Rao inaugurates science park
Speaking after inaugurating a science park at Sneha School in Sullia Prof C N R said, "Science becomes interesting and unique when ten questions emerge with the finding of an answer. I expect good things from rural India. Rural India can produce another Newton or Faraday. Speeches and politics cannot make development. Progress requires hard work," he explained.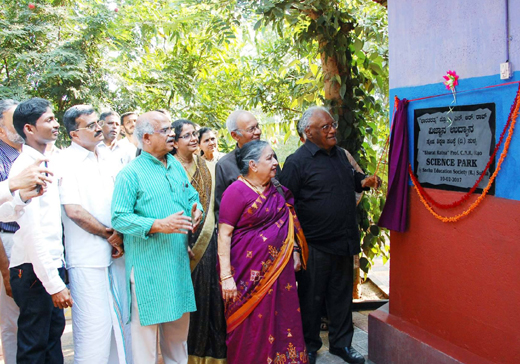 Padmashree awardee and Sneha School founder Girish Bharadhwaj was felicitated on the occasion. 'Don't Say My Child is Mild', a book authored by Sneha Education Institution President Dr Chandrashekhar Damle, was released by Prof Rao's wife Indumati Rao.

Earlier, Prof Rao visited the Gurukula, Chowki, Kalashale and open planetarium on the school premises. During an interaction with students, he felt that there is a need for more funding for universities towards research. Prof Rao said that the government has not completely learnt about the adversities of the use of Endosulfan.

Kuvempu University former Vice Chancellor Dr Chidanand Kolambe, school headmistress Jayalakshmi Damle, Akshara Damle, Sameera Damle and School Convener Dr Vidyashambhava Pare were present.

Write Comment
|

E-Mail
|
Facebook
|

Twitter
|

Print