'Vivax malaria' seen on the rise in DK, experts
Mangalore Today News Network
Mangaluru, Mar 17,2017: It is reported that a team of experts from the K S Hegde Medical Academy (KSHEMA) have declared that vivax malaria is on the rise in the district and region. It is an alarm bell for the people of Dakshina Kannada which is most vulnerable to mosquito-borne disease like malaria.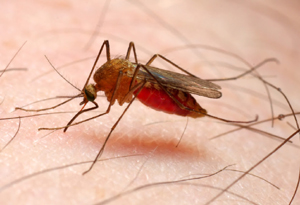 Dr Sudhindra Rao M from KSHEMA, a part of Nitte University said, "Earlier, vivax was found mild. Now, it is now fast spreading throughout the year. It has been noticed even in healthy individuals earlier down by malaria," added Rao, the findings of the research going on for two years in association with PennState University, US, on various aspects of the disease was a pointer base.

"Although preventable, the rise in vivax type of malaria is attributed to migratory people, especially people from the North-eastern (NE) states and hot temperature that prevails over the coast throughout the year, according to newly reported cases. The remedial measures include checking stagnation of water to prevent breeding of mosquitoes, treating the patients on par with the guidelines of national vector-borne diseases and making malaria test compulsory for people suffering from fever. Public awareness too is a key, as using mosquito nets will also come in handy," he added.

Prof Dr Sucheta Kumari said, a dedicated team focused on pregnant women, among whom nine were found affected by malaria, thus infecting children too. In another two years, it is aimed at identifying inflammatory marks in early stage, as the study on analysing such marks on affected lots is underway.

Principal Satish Kumar Bhandary B said, "In another one year, path-breaking results are expected, with the focus on epidemology and drug resistance malaria."

Conference : As part of the research, a two-day international conference on 'Malaria in Global Health' is organised from March 17 at K S Hegde auditorium, Derlakatte. Apart from India, experts from the US are expected to take part, with registrations touching 300. In all, 40 papers on malaria will be presented during the conference, while a Young Scientist Award will be conferred on an eminent personality, the name of whom is yet to be finalised. A quiz and a workshop have also been organised, Bhandary added.

Write Comment
|

E-Mail
|
Facebook
|

Twitter
|

Print