'Sahabaalve Saagara' Reception Committee 'hon prez' is Sadananda Suvarna
Mangalore Today News Network
Mangaluru, Jan 25, 2016: As per a media release received by 'Mangalore Today' from official spokes person Gulabi Bilimale, a national convention of like-minded individuals hailing from different strata of society and professions and representing a number of organizations is scheduled to be held at Mangaluru Town Hall on January 30. The convention 'Sahabaalve Saagara', focuses on peaceful and harmonious co-existence as a basic aim all over the nation.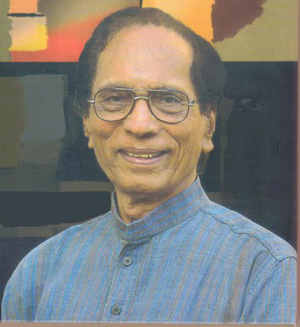 Sadanand Suvarna, an award-winning theatre personality based in the city, has been chosen the honorary president of the reception committee constituted for the convention. Dr Srinivas Kakkillaya is the working president.

Sadananda Suvarna is known to be perhaps the most creative personality of the contemporary theatre and silver screen scenario. Born in Mulki in 1931, after his basic education, continued his studies in Mumbai. Experimenting with different works and carved a niche for him self.

Later he made a mark in the world of theatre and rose to be a much respected actor, director, stage personality, writer, publisher and organizer. Some years ago, he came back to his roots and settled down in Mangaluru. His energy and enthusiasm at the age of 85 is amazing.

Of the well recalled works produced and directed by him include 'Urulu' (The Noose), 'Court Martial', 'Male ninta mele (After the rain stopped), 'Kalenk-di neer' (The muddled water) and 'Guddeda Boota'. He has won awards for creations on the silver screen as well as the small screen.

He has a number of stage-plays – original and translated – to his credit. He also has a collection of stories and a novel in published form. He has given many value-based art movies like Swarna Kamal-winning 'Ghatashraaddha' directed by Girish Kasaravalli, and national award-winning 'Tabarana Kate'. 'Mane' and 'Kraurya'. Some of the movies he made have won state awards and have had the privilege of being screened in international film festivals.

His documentaries like 'Karantha Darshana', 'Shri Narayana Guru' and 'TuLunaDu, ondu iNuku noTa' have received rave reviews. Among the other honours he has won are Kannada Rajyotsava award, Karnataka Tulu Sahitya Academy award of honour and Karnataka Nataka Academy's 'Karnataka Shri' award.

What stands out among Suvarna's traits are his simple, soft-spoken and amiable nature. Being a progressive thinker and a great humanist, he has stayed away from personal publicity and shunned self-glorification, caste bias and blind beliefs.

The theme

The event on Jan 30 will commemorate Mahatma Gandhi's death anniversary. Rallies named after the beautiful rivers of the state – Netravati, Malaprabha, Sharavati, Sita, Bhadra, Shambavi, Kaveri, Sauparnika,Shalmala, Kumaradhara, Phalguni, Kali and Krishna – arriving from different parts of the state will converge in the city on that day.

Some eminent persons scheduled to take part are Yogendra Yadav of Swaraj Abhiyan – Delhi, senior human rights activist Teesta Setalvad, journalist Gauri Lankesh, advocate A K Subbaiah and many other social and religious leaders with progressive orientation.

Release of Invitation and poster: Jan 25 Today.

The official invitation to the convention and its poster will be released by retired principal and author Chandrakala Nandavara at a gathering in front of the DK DC office Mangaluru at 4 pm on January 25, Monday (Today).

Write Comment
|

E-Mail
|
Facebook
|

Twitter
|

Print