'NOTA' option use for electoral ills: former CEC
Mangalore Today News Network
Mangaluru, July 21, 2016: Addressing the gathering, mostly bankers, DK DC too attended later, at the 15th Balasubramanian Memorial Lecture on the topic 'Subsidies, Freebies and Cash for Votes - Democracy in Peril', organised by Corporation Bank Officers' Organisation (CBOO) at its auditorium; Former Chief Election Commissioner of India N Gopalaswamy on July 20, Wednesday asserted that NOTA, 'None of the Above' option will emerge as an effective tool in fighting many ills in the electoral system in future.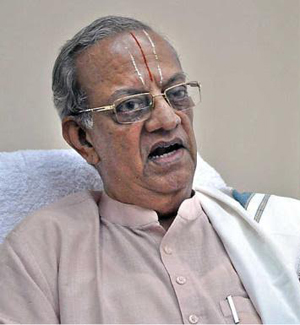 Gopalaswamy particularly advised those who stay away from exercising their franchise to at least use NOTA option as a part of eternal vigilance to set right the system. He also spoke on the poll scenario in the country, especially in the recent past, where freebies made news and the number of elected representatives with criminal backgrounds are on the rise with every elections. He termed it is a 'joke on the people', as 'representatives with heinous crime records are framing legislations for the welfare of people'.

Citing the example of freebies being doled out in the elections, especially in his home state Tamil Nadu, Gopalaswamy said, "In the last 10 years, Rs 12,000 crore was spent on freebies and it may touch Rs 24,000 crore during the forthcoming budget - as freebies included in party manifestos with details on financial implications are allowed. The freebie culture that started with the distribution of television sets in Tamil Nadu, later expanded with the distribution of household articles, laptop and also rice."

Giving a list of people's representatives with criminal past, Gopalaswamy said, "Of the total 224 MLAs elected to Karnataka Legislative Assembly in 2013, 74 (34%) were facing various charges an increase of 14% compared to 2008 polls. Of the total MPs elected to the Parliament in 2014, 185 had pending cases, with 75 among them facing serious charges like murder, rape, dacoity to name a few. In the year 2009, 161 MPs had such dubious past and 55 to 75 among them were facing serious charges. In the year 2004, it was in the order of 128 MPs and 55 facing serious charges."

Elected representatives were not lagging behind in accumulating wealth as their assets saw a phenomenal rise after every elections. Without taking the name of anybody, Gopalaswamy said, "There was one person (in Karnataka) whose assets grew by 34,557 % during 2004 and 2009. He literally 'minted' money'. It was during the same period overall growth of assets of legislators in Karnataka increased by 797 %."

Write Comment
|

E-Mail
|
Facebook
|

Twitter
|

Print