'Kaavee Nayana' Art Exhibition Inaugurated
Mangalore Today News Network
Mangalore Jan 9, 2016: 'Kaavee Nayana' an Art Exhibition by Veena Srinivas was inaugurated in Prasad Art Gallery at Ballal Bagh on 8th Jan 2016. The exhibition was formally inaugurated by Mrs. Radha Bhandary.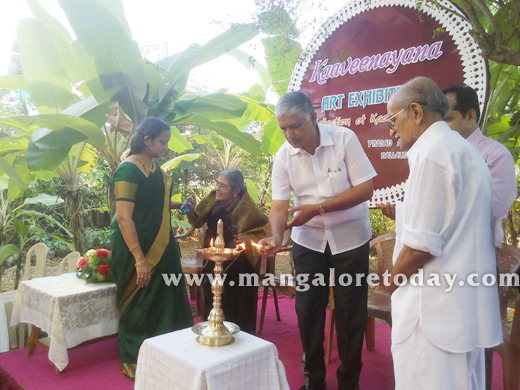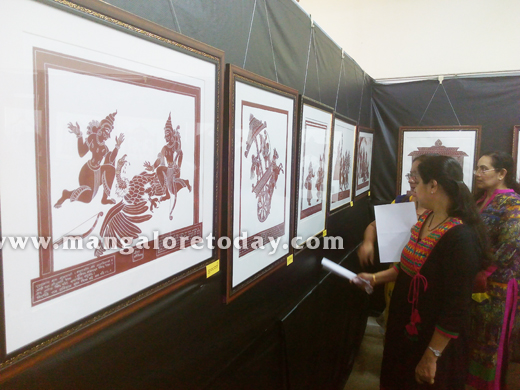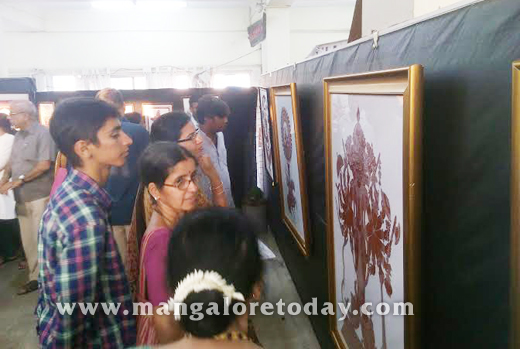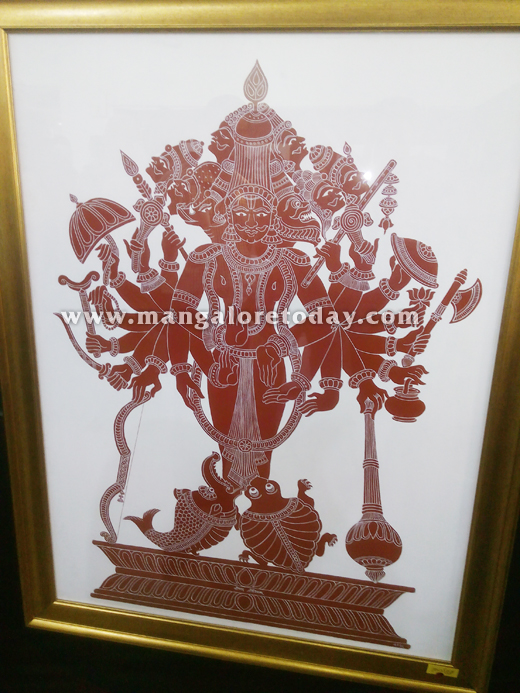 Director of Karnataka Janapada Vishvavidyalaya Prachyasanchana Samshodhan Kendra Udupi Prof. S.A.Krishnaiah said that, Veena Srinivas has taken up the task of popularizing an ancient art through this exhibition. The Konkan Samaj has preserved this ancient art form from centuries. Kaavi (Indian Red) painting is done using red laterite powder. The Ferrous content in the soil gives it its rich reddish brown colour. this powder is used to prepare Manaka and Kanaka along with the mixture of jaggery and lime stone. Existence of Buddha sketch and Fresco made out of Kaavi (Indian Red) is found in one of the temple at Kollur, he said.

He also said that, during olden days Manaka was made out of buffalo flay. In 1988 Kaavi Kale painting was explored by Narasimhan, gypsies and Daithikar were two groups of people in which gypsies used to paint divine image with this reddish laterite powder.

In his address he said that, usage of reddish laterite powder has certain advantage in treating skin disease through its radiations. UNESCO World Heritage authority should recognise Kaavi Kale painting and should also included in school text books so that children should be aware of Kaavi Paintings and its importance.

Lalitha Kala Acedamy, Konkani Kshetra should encourage in popularize and protecting Kaavi paintings he requested.

President of Karnataka Konkani Sahitya Academy Mr. Roy Castelino said that GSBs and Christians who migrated from Goa are the branches of same roots. Konkans have shown interest in collecting and enhancing Kaavi paintings.

Veena Srinivas connected a nerve through this paintings and giving life to this ancient art. It is said to be as soul property of Konkani.
The painting look so intricate and beautiful, only artist can understand true value of Kaavi painting rather than a common man does.

He wished that, Veena Srinivas can be an Art Ambassador of Konkani for her attempt in collecting and popularizing ancient art. Veena Srinivas owed gratitude to her Mother in Law Radha Bhandary for her valuable support and encouragement, Art exhibition will start from 9th Jan to 12th Jan 2016, Veena said.


Write Comment
|

E-Mail
|
Facebook
|

Twitter
|

Print