"Indian Ways of Understanding Poetry", Kavita Trust holds a thrilling evening in city
Mangalore Today News Network
Udupi, Aug 28,2017: The Konkani glitarati of Mangaluru was upbeat with the Kavita Trust's annual feature, now in the sixth installment a lecture in the series of James and Shobha Mendonca Endowment Lecture on Poetry at Deepa Comforts, MG Road on August 27, Sunday.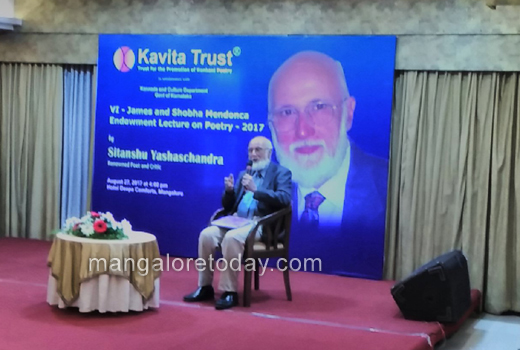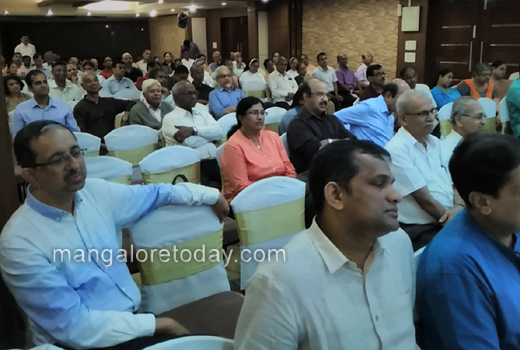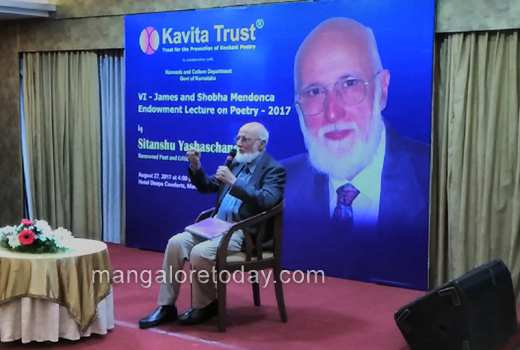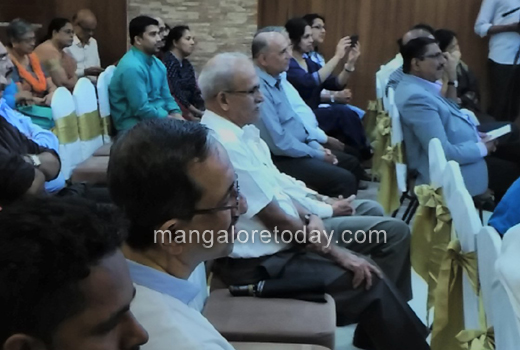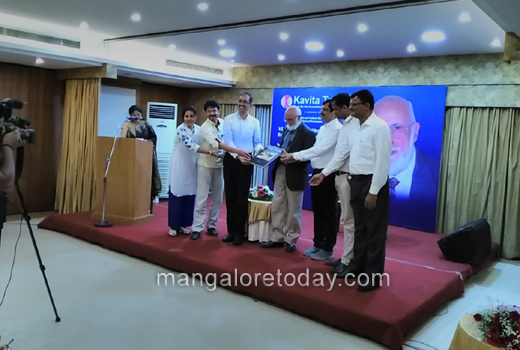 Gujarat based poet, critic and Saurashtra University former vice chancellor Padma Shri, Prof Sitanshu Yashaschandra, delivered a gripping and erudite lecture, which was well appreciated by the poets, writers and a wide cross section of people assembled - the topic: "Indian Ways of Understanding Poetry".

Konkani according to the professor, is a vesatile language even now spoken across cultures and religions and spread over several regions of India and used globally too which gives it a unique status. It has maintained it's glory to a fair extent not just through the state but the active patronage of the people. He lauded James and Shobha Mendonca (with James present), and such lovers of language who have been the stalwarts of a cause that is higher than noble. He while explaining much of the poetry leaning towards Indian mythology, perhaps eluded Konani's current status to 'Kama mohitam' the pangs of annihilation at the point of 'generating life'.

"Poetry is both deeply personal and remote too. But, dichotomy is not severe in Indian poetry and flexible unseen borders are transcended making possible all events," according to Prof Sitanshu Yashaschandra.

The dichotomy mantra is experienced in the works of rebel poets of mythology, who have penned their poems in 'Apabramsha', which lies between Sanskrit and Prakrit languages; Prakrit is the mother of Konkani in many ways. These poets established that the process of unlearning will transcend beyond knowledge. There have been similar works in Pali language by female monks belonging to Theri Pantha of Buddhism too, Prof Yashaschandra said, adding, "Regional languages should be able to relate to each other through poetry. The porous borders of various Indian languages gives a fillip to this advantage.

"There is a deep need to shelter in the past to again and again discover an identity. Poetry is the language of sensitive minds. The works of great poets Dante, Kalidasa, and Kabir have indicated a stress on diversity in unity. In the play 'Abhijnana Shakuntalam' by Kalidasa, the characters Dushyantha and Shakunthala speak in different languages – Sanskrit and Prakrit. Yet, they make love in exemplary ways, highlighting the role of vividness in oneness," the critic cited.

Stating that Konkani has now become a language of literature, the National Sahitya Academy Award-winning writer noted that Konkani is known for its quality of gentleness and mindfulness. It is he said, one among the languages with an ability of speaking in undertones without loudness. But for the patronage of Konkani speaking people, the language wouldn't have thrived to this extent," he said and suggested conducting workshops towards the transliteration of Konkani poetic works to Gujarati and vice versa. A question answer session brought out interesting matters too.

Kavita Trust patron James Mendonca, president Kishore Gonsalves and Melwyn Rodrigues among others were present. Those in attendance were refreshed by the stimulating exchanges at this Kavita trust event.

RECAP :

The James and Shobha Mendonca Endowment Lecture on Poetry is an annual program and this year is in its sixth edition. It is an occasion to interact with distinguished poets. Since the year 2012 renowned poets Gulzar, Ashok Vajpeyi, Jerry Pinto, Arundhathi Subramaniam and Keki Daruwala have delivered this lecture.

Kavita Trust which is a registered body was founded in the year 2002. The Trust takes up number of projects to promote poetry. Spreading its wings in Konkani region, it has brought different dialects of Konkani under one fold by being the platform for poetic expression. It has taken the richness of poetry to the doorstep of the layman by way of poetry sessions, seminars, talks, symposiums, festivals and competitions. In the lat fifteen years Kavita Trust has held more than 125 programmes related to poetry.



About Prof Sitanshu Yashaschandra (b.1941) : A contemporary Gujarati literature's most celebrated poet and playwright. He is also a critical theorist, translator and academic. He has received National Sahitya Akademi Award (1987); Rashtriya Kabir Samman, (Madhya Pradesh) among many others. He was bestowed with Padma Shree by the Indian government in the year 2006.

He has been invited to read internationally from his poems and plays at Paris, Berlin, Frankfurt, Stuttgard, Moscow, Riga, Croetia, New York, Chicago, Los Angeles, Seoul etc and nationally at Delhi, Jaipur, Shimla, Chandigadh, Kolkata, Guahati, Patna, Bangalore, Trivendrum, Hydrabad etc

A Fulbright Scholar and a Ford West European Fellowship recipient, Yashaschandra has a Doctorate in Comparative Literature from USA and another Doctorate in Indian poetic from Mumbai. He worked as Vice Chancellor (Saurashtra University), UGC Emeritus Professor and National Lecturer, as well as Chief Editor of the Encyclopaedia of Indian Literature (Sahitya Akademi).

He has taught, as Professor and Chair of Gujarati, at the M. S. University of Baroda, from 1972, and has been a visiting Professor at the Sorbonne University (Paris), University of Pennsylvania, (Philadelphia), the Loyola Marymount University (Los Angeles), and Jadavpur University (Kolkata).

Write Comment
|

E-Mail
|
Facebook
|

Twitter
|

Print