'Do not share elaborate details on social media': Dr Ananth Prabhu
Mangalore Today News Network
Mangaluru, Jan 22, 2020: People should avoid posting close-up photographs and selfies on social media, particularly on WhatsApp, cyber security expert and professor at Sahyadri College of Engineering and Management Dr Ananth Prabhu G warned.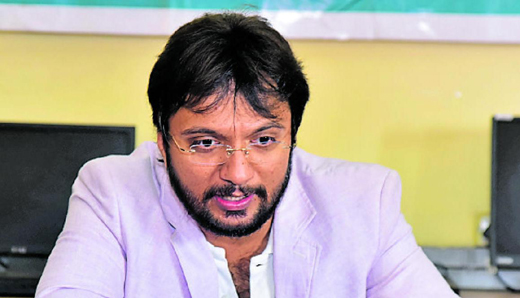 "One can post a low-resolution group photograph, taken from a distance," he said, while responding to a caller at the phone-in programme, organised by Prajavani, at DH-PV Editorial Office in Balmatta on Tuesday.

Prabhu urged the people to be wary of suspicious e-mails and messages.

He appealed to the people not to share elaborate details on social media. While enrolling for WhatsApp, one needs to give valid phone number to get OTP.

Caller ID spoofing

The cyber forensic is advanced now and can trace the caller ID spoofing (that allows you to display a phone number different than the actual number from which the call was placed) at the earliest, he added.

On how to check the veracity of the messages received via WhatsApp, Prabhu said by pasting the messages on www.snopes.com, one can check the accuracy of the messages and video received. If the messages are fake, then legal action can be initiated by submitting a complaint to the police, he added. To submit a complaint on fake messages, one need to export the primary evidence to email and then take a screenshot of the message to submit it as a proof, Prabhu added.

Notisave app

Notisave app in the mobilephone autosaves notifications received via WhatsApp and Telegram as well.

To know whether the photographs and videos posted on social media are misused by miscreants, Prabhu said that posting high resolution photographs can be morphed easily. Using www.tineye.com, one can go for reverse image search by uploading the photo that a person thinks that is being misused. The search will reveal whether the said photo is used somewhere else by some individuals. It will also reveal the origin of the photograph from where it was downloaded, Prabhu added.

Advising the people to have two bank accounts, one exclusively for online transaction and another for offline purpose, he said many people without properly reading the messages received from unknown sources press the link in the message, thus revealing the details to fraudsters.

He urged people not to get their cellphone repaired at unauthorised service centres, where there are possibilities of installing fake apps using the same design and logo of the original app, thereby helping the online fraudsters.

ATM skimming

On 'ATM skimming', Prabhu said, ''ATM skimming is theft of card information with help of a device called skimmer. When the card is swiped at the machine, the skimmer device captures the information stored on the card's magnetic strip." Thus, banks have come out with a cardless enabled ATM, he added.


'Full-fledged cyber police station needed in every dist'

A full-fledged cyber crime police station is needed in every district to tackle the increasing cyber crimes. An exclusive cyber court should also be set up to deal with the cases, said Dr Ananth Prabhu G, Professor at Sahyadri College of Engineering and Management.

"If the Data Protection Bill is implemented then cyber crimes can be tackled effectively," Prabhu, also a cyber security expert, said while replying to a caller during the phone-in programme.

RFID blocking pouch

Using RFID (Radio-Frequency Identification) Reader, a fraudster can easily withdraw money from the credit or debit card with an embedded RFID chip.

A sum of Rs 2,000 can be withdrawn without using the password. To protect the card embedded RFID chip, one need to use aluminum foil debit card sieve called RFID blocking pouch, Prabhu added. The banks can provide RFID blocking pouch while issuing the debit card. He said government should ban internet calls or VoIP calls in India.

Fraudulent SMS

Caller Aboobakker sought to know how to stop receiving fraudulent messages like winning a prize money or car.

Prabhu said that data base of the callers are sold by marketeers. Senior citizens and women fall prey to 'phishing', a fraudulent practice of sending emails purporting to be from reputable companies in order to induce individuals to reveal personal information, such as passwords and credit card numbers and so on.

To block all unwanted commercial calls/SMS, mobile users can activate DND (Do not disturb) on their mobile by dialing 1909 and selecting the options, or by sending SMS to 1909, he said.

All the mobilephone users should save their International Mobile Equipment Identity (IMEI) number soon after the purchase, to trace the lost mobilephone, Prabhu said replying to a query. The IMEI can be collected by dialling *#06# on the phone.

Further, the Department of Telecommunication has come out with Central Equipment Identity Register, wherein a user can report to their operator about the theft by entering the mobile device's IMEI number into the CEIR. This will make the device unusable at any network.

When Rajesh from Kadri sought to know on deleting cookies from android phone, Prabhu said all cache files can be cleaned from the setting of the mobilephone.

Using the paid anti-virus, helps in scanning all the applications in the phone. Do not give access to contacts and other details of the mobilephone while installing any applications on the phone, he advised.

Prabhu said that to know more about cyber safety, one can log on to cybersafegirl.com to download the free e-booklet.
Courtesy:Deccan Herald

Write Comment
|

E-Mail
|
Facebook
|

Twitter
|

Print