'Chalo Udupi' created unnecessary controversy, says social activist
Mangalore Today News Network
Udupi, Oct 19, 2016: Speaking to media on Oct 18, Tuesday, social activist Lolaksha, said that the core problems faced by the Dalits in Karnataka were suppressed during the 'Chalo Udupi' programme organised demanding the right for Dalits. 'Chalo Udupi' ended in raking up unwanted controversy, he said.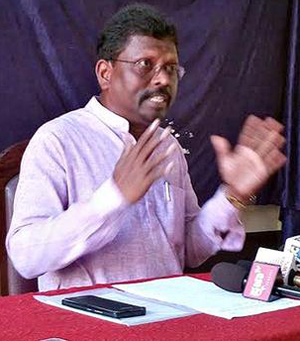 The 'Chalo Udupi' was organised under the banner of 'Food is Our Choice, Land is Our Right' (Aahara Namma Ayke Bhoomi Namma Hakku). The issue of land for Dalits should have been given priority in the coastal region. The convention gave utmost priority to food, however, the discussion lost track, he said. Noting that beef is not an issue of food for Dalits in Karnataka, he said majority of Dalits in Una are engaged in works related to cattle and meat.

The statement of activist Jignesh Mewani at 'Chalo Udupi,' on laying siege to the Udupi Mutt, clearly showed that the movement does not have clarity on the issue. The Indian Constitution Article 25 (2) (a) and (b) has given right of religious affairs to the various religious denominations. As a result, there is no meaning is creating an hurdle in the affairs of Udupi mutt, he said. "Instead, the respective governments can bring in reforms in mutts through legislation," he felt. However, the reaction of the Pejawar seer and the members of pro-Hindu organisations for the statement of Jignesh on laying siege to Udupi mutt has exposed their hypocrisy.

Stating that the government is empowered to bring in a legislation to eradicate practice of 'Pankti Bheda' in Udupi mutt, Lolaksha said, "Hinduism is the most liberal religion in the world and added that the loopholes in the system needs to be set right to help Hinduism to strengthen democratic principles of the country. There is a need to strengthen the movement by pro-Dalit leaders to help Dalits in availing the land.

He appealed to the members of pro-Hindu organisations and Pejawar seer not to divert the core issue of the problems faced by the Dalits. Let us create an atmosphere to live in harmony in undivided Dakshina Kannada district. He said that the failure of the state government has made way to the cow vigilantes to take law into their hand. Had the state government implemented the Karnataka Prevention of Cow Slaughter and Cattle Preservation Act 1964 effectively, the miscreants would not have taken law into hand in the coastal belt.

Write Comment
|

E-Mail
|
Facebook
|

Twitter
|

Print