'Aati' event attracts in a big way at Pilikula
Mangalore Today News Network
Mangaluru Aug 07, 2016 : A festive look for the annual 'Aati Koota' programme on August 6, Saturday attracted crowds.The programme showcased traditional delicacies and herbs of Tulu Nadu. The sprawling idyllic tiled-roof Guthina Mane at Dr Shivaram Karantha Nisargadhama, Pilikula, was the venue.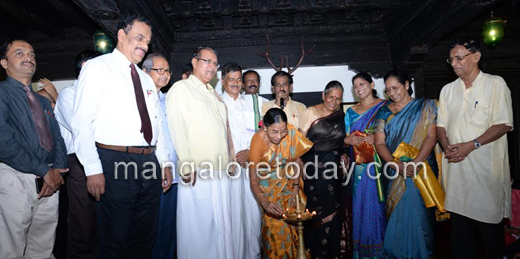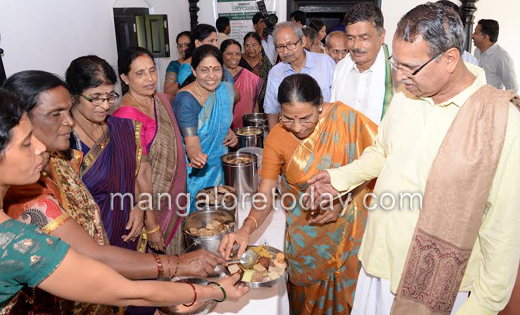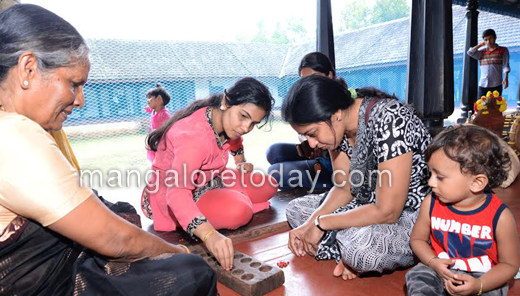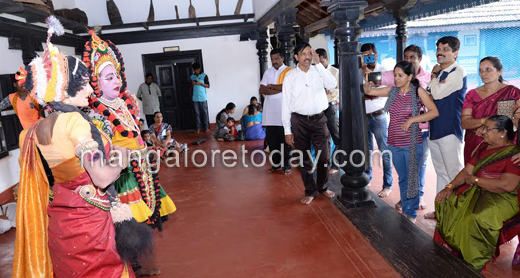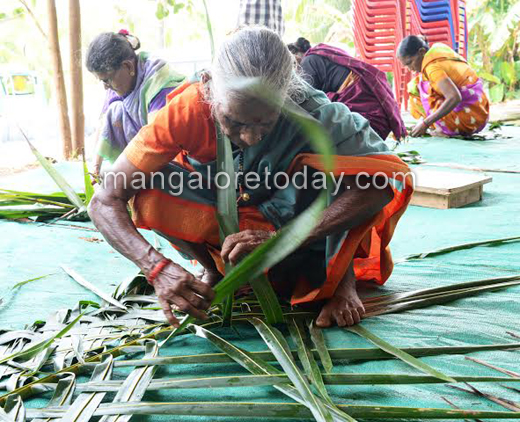 Medicinal plants, including 'Bilva Patre,' 'Kaadu Nugge', 'Manjotti' and others took the visitors to an era where the Aati season traditionally implied dodging off diseases. The visitors also had a chance to savour varieties of home-made sweets, savouries, curries and other preparations. Channamane, Tulu singing competitions, Pad-dana competitions, weaving coconut fronds and others took the visitors to the bygone era.

The visitors, apart from savouring the food, also took a close look at artefacts on display that reflected life in Tulu Nadu. The earthen pots used for cooking rice and store cereals, the press used to make vermicelli, artefacts used for demigods' worship and other day-to-day equipment were kept neatly at the 'Guthina Mane' reflecting the traditional life of the region.

Explaining the fading tradition, Hampi Kannada University former vice-chancellor B A Viveka Rai said, "Aati Koota is an attempt to revive the culture of Tulu Nadu. It should not be restricted to a day. The traditions and culture of the land should be carried forward." It is believed that the entire region witnesses heavy rainfall that rejuvenates life and nature during this month.

Weaving fronds : The aged and young, enthusiastically participated in a competition to weave coconut fronds.

One young girl said she learnt the art of weaving coconut frond from her mother, an anganwadi teacher.

"Along with weaving coconut frond, I know how to weave mat using a typical kind of grass, prepare basket using the locally available raw materials."

A teen aged girl from Ramakunja School in Puttur said she learnt the art of weaving coconut frond from her mother and aunt last year. "I love to weave coconut frond as it has its own sytems. It gives a sense of happiness on the achievement."

The visitors savoured mouth-watering dishes like 'Ambate pickle,' 'Thimare Chutney,' 'Horsegram Ghutney, 'Uppad Pacchil' (a dish made of tender jackfruit bulbs preserved in salt), bamboo shoot-green gram curry, 'Kesuvina Tetla' (colocasia leaf curry), 'Tojanka- jackfruit seed curry,' rice, 'Harive-Kesuvina Dantu curry,' 'Punarpuli Rasam,' Payasa, 'Guriyappa,' 'Thekkaredadye' (a sweet dish made of cucumber), 'Akki Unde,' 'Pathrode,' 'Halasina Gatti' (a sweet dish made of jackfruit) and raw jackfruit chips. Chikkamela contributed a Yakshagana display that thrilled all.

Save

Write Comment
|

E-Mail
|
Facebook
|

Twitter
|

Print