Zomato issue: It's about rate-cards, not religion
Mangalore Today News Network
Mumbai, Aug 19, 2019 : Each time there's talk of religion, social media gets polarized and depending upon whom we follow, our views and responses are skewed. One side of the debate claims that the current dispensation has removed the unity from India's diversity, while the other counters this with the claim that the so-called 'unity' of previous governments was achieved through suppressing diversity, Yahoo reported.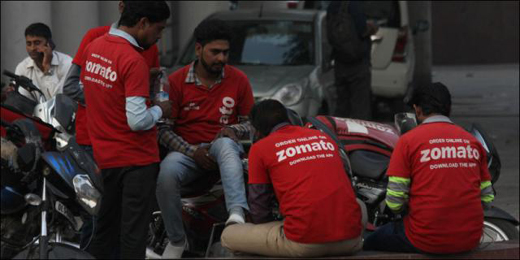 There's a third lot that perceives the truth for what it is: that social media is not to be trusted. In fact, anything that relies extensively on digital technology to provide solutions has to be accepted with a pinch (or more) of salt. Which is why they believe that polarization is a result of being fed more of what we want. Like giving an alcoholic another drink!

And this was proved yet again with the story of Zomato, which some believe was delivering more controversies than food. First there was a customer who refused to collect an order because the delivery agent's faith didn't match, and barely a couple of days later, the company is busy handling a strike of delivery partners in Kolkata over religious sentiments related to delivering certain dishes.

In the first instance, the Gurugram-based company took a stand that food itself was a religion, but when agents in Kolkata took to the streets to suggest that delivering beef and pork recipes was against their faith, the company was left tongue-tied. Efforts to quell this Mangal Pandey-like uprising was further colored by political expediencies.

Social media too went berserk as users sought to remind Zomato and its head honcho Deepinder Goyal that in India food did have religious overtones. Local political leaders joined the bandwagon in what appeared to be a case of "Behti Ganga Mein Haath Dhona" and things just appeared to go from bad to worse.

After claims and counter-claims and lots of prime-time airspace, it now turns out that the religious overtures were actually a result of smart thinking from a bunch of delivery partners who felt that striking work for better remuneration wouldn't attract the media as much as the matter of hurt religious sentiments would!

Last week, the said team leader of Zomato was informed of a further pay cut (from Rs. 60 per delivery to Rs.40 and now to Rs.25) coming alongside stiffer delivery targets. Incensed with these changes, the employees went on strike but found no support for the first couple of days. That's when they decided to seek the help of a local BJP functionary in Howrah.

Sanjiv Kumar Shukla, whose Facebook profile claims that he is the secretary of the BJP Mandal for Uttar (north) Howrah, was approached to create some facetime for the striking workers in the media. ANI Television captured the strike and the clip went viral on social media after the Zomato agents claimed they were being asked to deliver beef and pork.

Shukla further fanned the flames with his own media briefings that carried strong religious overtones, while taking care to ensure that both Hindu and Muslim sentiments were treated equally. Hence the equal importance to both beef and pork. The idea clicked big time and soon enough social media went ballistic.

Mainstream media followed suit, with news reports going to the extent of suggesting that under Narendra Modi, such issues would take up news time as the government wanted to deflect criticism from economic stagnation. In fact, the Bengal BJP stated that they had no comments on the Zomato protest or were even remotely associated with it.

That the Zomato leadership, which had almost immediately taken a stand over the matter concerning the faith of a delivery executive, remained silent over the Howrah protests added fuel to the fire. And Shukla used this time to gain more mileage on television and in the newspapers by ramming home the point that food indeed had a religion.

However, the chief executive Deepinder Goyal yet again clarified that there were no religious overtones to the matter and it was just about remuneration. In a statement to the staff, he said the agitation had "nothing to do with food or religion or beliefs," and clarified that it was limited to just the Howrah area and not across the state.

So where does that leave poor netizens, some of whom took sides and others were forced to accept it? Well, they can now go about their business and wait for the next bit of news, which shouldn't be too far off considering that news cycles need such gaffes to keep their relevance in today's over-exposed, yet under-informed world.