Youth tries to stab Congress MLA Byrathi Suresh
www.mangaloretoday.com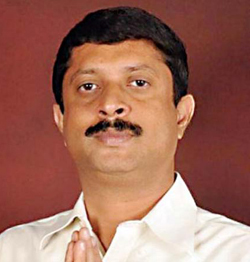 Bengaluru, Oct 18, 2019: Byrathi Suresh, a Congress MLA from Hebbal narrowly escaped a knife attack from a local youth near his residence. As per media reports, Suresh's car scratched a person's two-wheeler. He apparently stopped the MLA's car and got into a heated argument with him.

Later, he pulled a knife and tried to stab the Suresh, but was stopped by the latter's security personnel and was handed over to the police.
In the interaction with the media, Suresh claimed to have known the culprit and is apparently his neighbour Shivu, who seems to have got into the bad company after his father's demise.

Suresh also added that he recently helped Shiva Kumar's mother to construct a house and is shocked why the youth tried to stab him.

The Police is investigating if there was any other ulterior motive or just a road rage incident.