Video of 'BJP leaders watching striptease' creates flutters
mangaloretoday.com
Bidar, Oct 4, 2013, DHNS: A video reportedly showing some politicians from the district watching the performance of a female stripper created ripples in political circles after several Kannada new channels telecast it on Friday.

The news channels claimed Babu Wali, the former general secretary of BJP's Bidar district unit, and B S Kudre, the party's former district vice president, were among those who attended the party. The footage, however, has not been authenticated yet.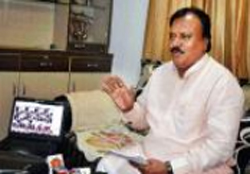 Wali, in his remarks to the press, claimed the video was "uploaded four years ago to a website from Pakistan and was titled 'Nanga Nach'."

In the video, the man shown is "simply my look-alike." Some politically motivated people have tried to "take advantage" of the footage. They conspired against him to damage his political career, he thundered. The BJP leader said he would file a defamation suit against the news channel and its reporter for "causing distress to me and my family members".

As soon as news channels began telecasting the footage, political temperature shot up in the district. Several Kannada, Dalit and students' organisations took to the streets, reacting strongly to the video. They demanded that the politicians shown in the video be arrested.

Besides, some news channels telecast the interview of a woman whose face was covered with a veil. She directedly accused BJP leaders — even naming some of them — of watching the nude dance. The channels also showed her naming Congress MLA from Humnabad, Rajashekar Basavaraj Patil.

The leaders, including Patil, denied the woman's allegations. They also met the Superintendent of Police, K Thiyagarajan, demanding a detailed probe into the matter.

Meanwhile, a case was booked under Section 354 of the IPC at the Gandhi Gunj police station in the town. But separate complaints had been filed by Wali, Kudre and Patil denying charges and seeking a probe, Thiyagarajan told reporters. Patil asserted that he was ready to be hanged before the State Legislature if charges against him are proved.

He asserted that his name was being dragged into the matter. "I do not know any such woman and have never met her," he said, exuding confidence that he would come clean.

The BJP's State unit has sought a probe by the cyber crime police. In a press statement, the party's State spokesperson Ashwathnarayana said that no BJP leader was involved in the episode. "It is a political conspiracy to tarnish the party's image," he said.