Thief steals 12 iphones from dressing room - cricketers halt match and chase!
Mangalore Today News Network
London, June 20, 2014: Now that is a stunning catch! A cricket match in Britain was brought to a halt after both teams abandoned the pitch to chase and catch a thief who stole a dozen iPhones from the pavilion.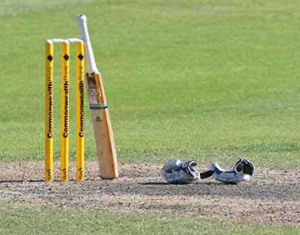 The suspect sneaked into the changing rooms to steal 12 iPhones from the jacket pockets of players during a 50-over match at Church and Oswaldtwistle Cricket Club in Accrington, Lancashire. The suspect was first spotted by the Church team's wicket keeper. He alerted an off-duty police officer who was waiting for his turn to bat, and he rounded up his teammates to give chase, the local media reported.

The players pursued the suspect across fields and into a wood. Joined by members of the home team, they used GPS technology on another phone to continue the pursuit. Police dog handlers were called in and, helped by the cricketers, they arrested a man and recovered the phones.

The chase ended particularly well for the Haslingden team. Not only were all their phones recovered, but when the match was resumed — shortened from 50 overs to 30, although probably not in circumstances anticipated by Duckworth Lewis — they won by six wickets. Lancashire Police said yesterday that a 29-year-old man from Doncaster was being held on suspicion of theft.

"We were playing and we see this guy sitting in the players' area of the pavilion. I assumed he was a club official, but he kept nipping in and out of the changing room," Sam Tucker, wicketkeeper for Church, was quoted as saying.

"I kept my eye on him and he made an exit. We chased him through the fields. There was tracking on one of the phones, so we were moving around following the GPS. Technology is amazing, we couldn't have done it without the GPS tracking,"