Swiss prepare list of Indians with black money
Mangalore Today News Network
New Delhi, June 23, 2014: In a move that is expected to help the BJP-led NDA government track down India's untaxed money parked in Swiss banks, Switzerland has prepared a list of Indians who have deposited unaccounted-for wealth in their treasuries.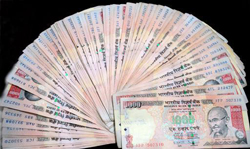 Swiss authorities have said that they will provide all necessary support to the new government and the Special Investigation Team (SIT) on black money. The details of individuals and entities are being shared with Indian government on a "spontaneous" basis.

Chief of the SIT on black money, Justice M B Shah, said the list would be verified and action would be taken against those found to have kept unaccountable money.

Justice Shah stressed that "it is not a list of only black money. It is a list of those who are also legally vested. It is a combined list. If it is legal, we cannot do anything. If it is illegal or unaccounted-for money, then we take action," he added.

A Swiss official also told PTI in Zurich that these funds may not necessarily be illicit as the clients themselves have declared to be Indian.

According to the latest data released by Switzerland's central banking authority in Zurich, Indian money in Swiss banks rose by 43 per cent in 2013 to nearly Rs 14,000 crore.

A big chunk of black money is deposited in bank accounts in countries which protect the identity of account holders or have low taxes. Since unaccounted-for money is never reported, it is difficult to precisely estimate how much is in circulation. But various studies indicate that there could be crores of rupees of questionable cash from Indian companies and individuals parked in accounts around the world.

The Swiss official refused to divulge the identities of the Indians and entities who have parked money in the tax haven. They have also not provided the information on the quantum of wealth held by Indians in Swiss banks citing the confidentiality clause of the bilateral information exchange treaty between the two countries.

The Indian government has also sought information on individuals figuring in the "HSBC list" that allegedly contains names of Indians and foreigners parking ill-gotten wealth in Swiss unit of HSBC bank.

However, the authorities have not shared that information, contending that their local laws prohibit administrative assistance in matters where information has been sourced illegally, including through stolen lists.