PM Narendra Modi gets 2nd dose of Covid-19 vaccine at AIIMS
Mangalore Today News Network / NDTV
New Delhi, April 08, 2021: Prime Minister Narendra Modi received his second dose of the Covid vaccine today at Delhi's AIIMS - 37 days after his first shot - and urged all those eligible to get inoculated against the deadly virus.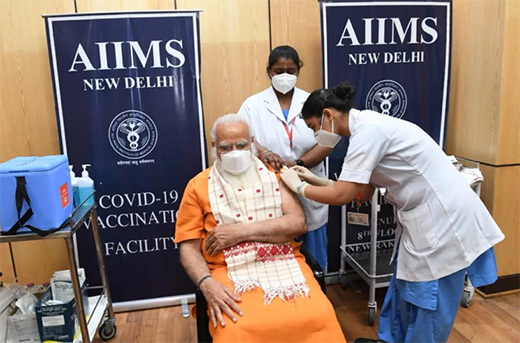 PM Modi was the first beneficiary on March 1 as the nationwide vaccination was widened to people above 60 and those over 45 with other illnesses.

Tweeting a photo of his vaccination, the Prime Minister said a Covid shot was among the few ways to defeat the virus. PM Modi was seen wearing a face mask this time as he took the shot unlike the previous time.
"Got my second dose of the COVID-19 vaccine at AIIMS today. Vaccination is among the few ways we have, to defeat the virus. If you are eligible for the vaccine, get your shot soon," PM Modi tweeted and shared a link to the CoWin website, a portal to register for the vaccine.

PM Modi has taken the home-grown Covaxin developed by Bharat Biotech and the Indian Council of Medical Research (ICMR), which has been linked to vaccine hesitancy because of its clinical trials status.

The Prime Minister's second vaccine dose was administered by two nurses, one of whom had given him his first shot as well. P Niveda, who was the main nurse last time, was seen holding PM Modi's arm in the photo while Nisha Sharma administered the dose.
Apart from Covaxin, Pune-based Serum Institute's Covishield, developed in partnership with Oxford University and pharma giant AstraZeneca, is being used in the vaccination drive which began on January 16 this year.
India has been expanding its vaccination programme gradually. The country had started inoculations with frontline and healthcare workers, and went on to people above 60 and those over 45 with other illnesses. In the latest round, all above 45 are being vaccinated. So far, over nine crore people have been vaccinated.
PM Modi took his second dose hours ahead of his meeting with Chief Ministers scheduled later this evening where he is expected to take stock of the ongoing vaccination drive and the recent alarming rise in coronavirus cases in the country.
A massive surge in infections over the past few weeks saw the biggest-ever daily surge of more than a lakh on Monday. On Wednesday, India reported over 1.15 lakh new cases in 24 hours. The total number of infections is now over 1.28 crore.