One dead, 5 injured in shooting on Washington DC streets: Police
Manglore Today News Network
Washington, Sep 20, 2019 : One person was killed and five others wounded on Thursday in a shooting on the streets of Washington, DC, not far from the White House, reports Reuters quoting police, Hindustan Times reported.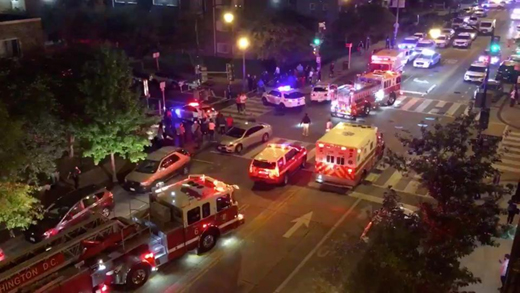 Police have not apprehended a suspect as of late Thursday and do not know the motive for the shooting, said Metropolitan Police commander Stuart Emerman.

He said it is not an active shooting situation.

"Detectives are interviewing witnesses and looking for camera footage," Emerman said.

There were five male victims and one female victim. Of the five, two were considered critical and other injuries ranged from serious to minor, but all were expected to survive their injuries, Emerman said.

The gunfire erupted in the Columbia Heights neighbourhood, about two miles (three km) from the White House on Thursday night about 10 p.m., and happened outdoors in a courtyard of an apartment building.

Located on the Potomac river, Washington DC is the capital of the United States and the seat of the federal government.


Gun violence

Washington DC has been grappling with gun violence. As of August 23, there have been 112 murders, up 14 per cent from the same date last year, and with four months left in 2019. July witnessed one of the worst spates of shootings with 19 people found shot in five days.


Gun laws in DC

Licences are granted to residents and non-residents. A licence to carry is required for possessing a loaded handgun in a vehicle. Open carrying of a firearm is not allowed in District of Columbia. After purchasing a firearm, the buyer must wait ten days before taking possession of the gun. It is illegal to possess magazines of more than 10 round capacity.