Muslim leaders in Congress flag minority tag for Lingayats
Mangalore Today News Network
Bengaluru, Mar 14 2018 DH News: Chief Minister Siddaramaiah's eagerness to woo Lingayats seems to have landed the state government in deep trouble.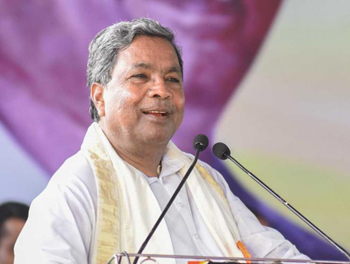 After Veerashaivas, minority leaders in the Congress, especially Muslims, have now flagged the move to declare Lingayats as a religious minority.

Muslim leaders, including Cabinet ministers, have warned Siddaramaiah that Lingayats, if declared a religious minority, could eat into their reservation benefits going forward since the population of Lingayats is perceived to be higher.

Urban Development Minister R Roshan Baig and Bengaluru City Development Minister K J George have, according to sources, conveyed the apprehension to Siddaramaiah. In Karnataka, minority communities - Muslims, Christians, Jains, Buddhists and others - are entitled to a 4% reservation.

The concern is not confined to the Cabinet. "The move to accord separate religion status to Lingayats should not affect minorities. There is fear among a section of Muslim leaders that it will affect them. The party should not end up losing both - Muslims and Lingayats," Congress veteran and former Union minister
C K Jaffer Sharief told DH.

According 'religious minority' status to the Lingayat faith, as recommended by an expert committee, might have far-reaching consequences, an IAS officer pointed out.

"This would mean that a Lingayat will ask to be made Minorities Welfare Minister or chairman of the Karnataka State Minorities Commission," he said.

Fear of backlash

To address concerns raised by the minority leaders, Siddaramaiah will have to maintain status quo for Lingayats as far as reservation is concerned. If this is done, there is a fear of backlash as Lingayats will continue to get the existing 5% reservation under Category 3B without any additional 'minority' benefits.

A member of the expert committee, on condition of anonymity, pointed out that the only discernible benefit of the minority tag will be enjoyed by Lingayat educational institutions run mostly by politicians. "All minority communities are categorised as backward classes in Karnataka. The only way reservation benefit will increase for Lingayats is when the existing categories are reorganised."

This is why minority leaders are apprehensive - Lingayats may demand reorganisation of the existing roster to claim a bigger percentage of reservation. "There's a need to make sure the existing benefits for minorities are ring fenced," an official from the Chief Minister's Office said.

Siddaramaiah is on shaky ground: He wants to recommend the Centre to accord 'religious minority' tag for the Lingayat faith, but Lingayat ministers want them declared as a minority under the Karnataka State Minorities Commission Act, 1994.