Majerhat bridge collapse: All those trapped have been rescued, says West Bengal minister
Mangalore Today News Network
Kolkata, Sep 04, 2018 : A bridge collapsed in Majerhat area of south Kolkata in West Bengal on Tuesday afternoon. At least five people are feared dead in the incident while eight others got injured. They were rushed to a nearby hospital.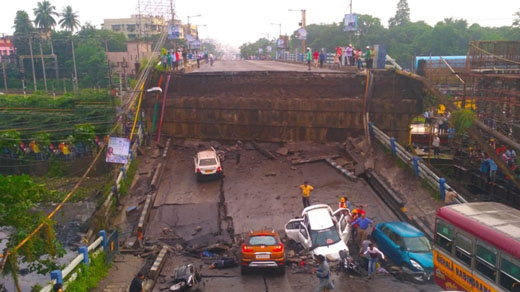 West Bengal minister Firhad Hakim, who rushed to the spot soon after the bridge collapse, said that all those who were trapped have been rescued. He said that while there was no information about any casualty in the incident so far, the same cannot be confirmed so soon. Speaking to mediapersons, the minister said, "It was a 40-year-old bridge. As of now there has been no casualty, but search operations are underway, let us wait."

An eyewitness claimed that he managed to rescue one person, but he succumbed to his injuries on the way to hospital.

The bridge reportedly collapsed at 4.45 pm. At least 10 fire tenders and ambulances were rushed to the spot. Many vehicles got trapped as the flyover collapsed.

According to eyewitnesses, several people on motorbikes also got trapped under the bridge. They said that electricity went off in the area as the bridge collapsed.


The area has been cordoned off as the rescue operations began. People were asked to vacate the area at the earliest as authorities feared that remaining part of the bridge could also collapse. Teams of NDRF and local police are conducting the rescue operation at the collapse site. The Indian Army clarified that its personnel have not been called in yet but since the area is very close, Army field hospital detachment has been sent.

Reacting to the incident, West Bengal Chief Minister Mamata Banerjee, who is currently in Darjeeling, said that she was very worried and wanted to rush back to Kolkata at the earliest.

"We are very worried. We are receiving information from the rescue team on ground(majerhat bridge collapse in Kolkata). We want to go back as soon as possible. There are no flights in the evening, we are unable to do so," said Mamata Banerjee.

"Our team is focused on relief and rescue work. Our priority is relief and rescue. Rest of the investigation will be done later," she further said.

The bridge, which passes over the Majerhat railway station, is an important bridge in Kolkata connecting Behala to areas which lie on the other side of the Sealdah railway line.

The Kolkata traffic police tweeted the traffic from DH Road to Majerhat bridge has been closed to traffic from NR Avenue.

More than two years ago, Kolkata's Vivekanand Flyover in Burra Bazar had collapsed resulting in the death of over 20 people while more than 60 others were injured. The flyover was under construction when two parts of the over 2.2-kilometre-long structure came crashing down in the congested market area on March 31, 2016.

Almost a 100-metre long section of Vivekanand Flyover had crashed trapping several pedestrians and vehicles under huge concrete slabs and metal.


courtesy: Zeenews