Killer tiger finally captured after intense hunt
Manglore Today News Network
Bandipura, Oct 14 2019: Karnataka Forest Department, after intense hunt finally captured the elusive tiger, which had killed two persons and terrorised villagers, in Bandipur Tiger Reserve, bringing to an end a dangerous and nerve-racking hunt that lasted five days. The D day was october 13, Sunday.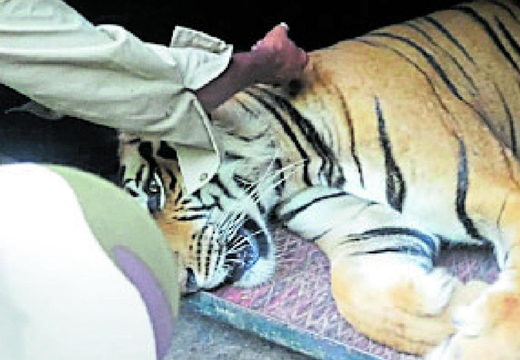 But in a twist, forest officials said the tiger had been initially mistaken for a four-year-old tigress. The tiger was captured near the Melukamanahalli camp of Gopalaswamy Betta Range in Bandipur Tiger Reserve and shifted to the Chamundi Animal Rescue and Rehabilitation Centre at Koorgalli on the outskirts of Mysuru.

Interestingly, the team comprising forest officials, veterinarians, tribals and volunteers spotted the tiger at the same location where it had killed an elephant calf in the early hours of Oct 12, Saturday.

First, camera traps were laid around the private farm where the tiger had killed an elephant calf, as part of a meticulous plan chalked out by forest officials and veterinarians.

"It is normal for any tiger to come back to the kill it had devoured initially. The entire team was vigilant and worked a way around this and the tiger turned up as calculated," T Balachandra, Field Director, Bandipur Tiger Reserve, told media.

But sedating and capturing the tiger was an impossible task in a hostile terrain. But the team had good expertise. Soliga tribesmen, who are said to be expert trackers. And they didn't let the team down.

Around 2.05 pm, the Soliga tribesmen alerted the veterinarians and foresters, moving in the bushes on elephant's back, about the presence of the tiger. The first shot of tranquiliser was immediately fired.

Successfully capturing the alleged 'man-eating' tiger on October 13, Sunday, the Karnataka Forest Department was in for a surprise as the captured tiger was a known male tiger which was once identified in Nagarahole a year ago.

According to sources in the forest department, the tiger, in the last one year, had been wandering in search of territory through several forest ranges and ended up in the buffer area of GS Betta Range.

The Bandipur Tiger Reserve officials who verified their database for the authentication of the big cat revealed that it was the same tiger that was previously camera trapped in Nagarahole Tiger Reserve near Dammanakatte (Kabini) in Antarasante Range.

This tiger was first photographed in 2018 January-February in Antarasante Range. Subsequently, the same tiger was spotted by the department in Moolehole Range of Bandipur Tiger Reserve in December 2018.

In February 2019, the tiger had settled on the outskirts of GS Betta Range under Bandipur limits," T Balachandra, Field Director, Bandipur Tiger Reserve, explained.

Surprisingly, in about a year's time, the tiger had walked about 100 km from Nagarahole to Bandipur Reserve in search of its territory.