Kerala issues SOP for handling police activities across state
Mangalore Today News Network
Thiruvanthapuram, May 22, 2020: Kerala has released an extensive list of Standard Operating Procedure (SOP) for all police-related activities in the state.

The 58-page SOP for Kerala Police ensures adherence to the Ministry of Health and Family Welfare (MoHFW) Covid guidelines where all the specific police processes have been addressed said IndiaToday.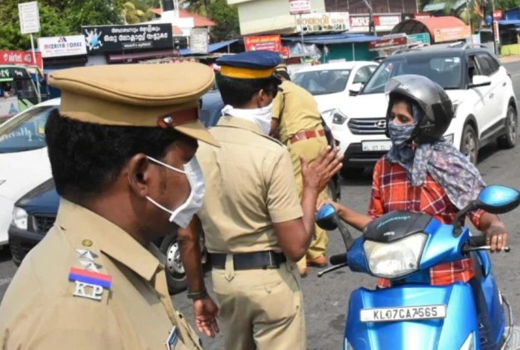 From arrest of the accused to handling of dead bodies in case of unnatural deaths, Kerala has listed out a set of guidelines to deal in such situations.

The guideline addresses senior-most officer to the beat constable, a foot soldier and also comprehensive details on video conference room to disinfecting mobile phone phones and electronic devices.

Amid migrant crisis over nationwide lockdown, the Kerala Police has come up with SOP in handling agitation, crowds amid coronavirus pandemic.

This includes details on marches, stationary protests and un-expected mobs with a common prescription for police officials during law and order duties at the time of protests. Lokanath Behera, DGP Kerala states

"The SOP was made keeping in mind that Covid-19 situation will not go away soon. Even if the situation improves, the SOP will remain for times to come," Lokanath Behera, DGP Kerala, said.

Kerala DGP Behera also said that health experts from Indian Medical Associated (IMA) have also been roped in to prepare the SOP.

"We have roped in health experts from IMA who are physically disseminating the SOP along with advising on day to day precaution in times of coronavirus. Besides, daily webinars are carried out so that the information is reached to the last constable," Kerala DGP Behera said.

The initiative which started on Thursday should be completed in a month span, covering 511 police stations and nearly 62,000 Kerala Police forces.

SOP for Kerala Police while handling protests, marches

"All the blocking equipment's such as barricades, ropes etc. must be sprayed with disinfectants before it is installed," the SOP for Kerala Police stated in preparation of protests.

The officers and men should use gloves, masks and sanitizers while handling these equipment.

Disinfectants must also be sprayed before it is removed from the place and also after the protest.

For marches, Kerala Police said police personnel should wear PPE such as face masks and gloves. Police personnel should not physically touch any citizen but they should use shields to gently nudge the marchers or protestors to be
in their positions.

Advance liaison with organisers of the protests should be done to make them prepare and comply with instructions. Issue notice to the organisers to ensure social distancing by the marchers or protestors. All marches should be in a single or double file with a minimum of the 2-meter distance between adjoining individual protestors. Flex boards if any held by the marchers should not be wider than 3 meters if held in the front.

In the case of stationary protests, advance liaison with organisers should be carried out to help them prepare and comply with social distancing and other norms.

In the case of "Arrest and Removal" during protests, the process should not be resorted to as "routine". Arrest should be made only in deserving cases. During arrest and removal of the protesters, the police officers must use personal protective gears like masks and gloves. They should also use and sanitisers before and after touching the agitators.

If the offence is bailable, bail may be granted at the spot, as far as possible. In non-bailable offences, the agitators may be produced before the Magistrate as early as possible. Even the vehicle used to transport the accused persons should be disinfected before and after use.

Technological solutions to ensure continued and smooth work without any impediment due to restrictions have also been detailed. Police processes like inquest, naka checking among others have also been detailed through a step-by-step SOP.

The tendency of over deployments should be curbed by intervention of senior officers.

"Protests are common in Kerala, so is action, since the lockdown, at least 1.90 lakh persons have been arrested. Most bailed out immediately. But protests are sporadic. The SOP has helped us deal with the situation as numbers swell during the time. Any number less than 5 are usually arrested and removed from spot," Kerala top officer told India Today.

SOP for arrests

The SOP has elaborated procedure for police field duties stating that arrest of the accused.

"Besides avoiding arrest in the bailable offence, the arrestee may be turned away and handcuffed from behind to restrict movement. Conduct frisking. Prepare arrest/ memo and intimate concerned," the SOP stated.

"Seat the arrestee at one-meter distance from police personnel in the vehicle. Take the accused for medical examination. Conduct clinical exam and temperature check in addition to routine check. Proceed to police station where the arrestee is to be taken directly to the lockup. Social distance to be ensured in lockup, in case there is more than one arrestee."

"The station vehicle is to be disinfected. Police personnel who effected arrest will clean themselves. The investigation will be conducted by the designated officer in a ventilated interrogation room at two-meter distance. Investigating officer and the suspect or accused, shall wear mask and gloves."

Accident cases

When it comes to accident victims or handling dead bodies, SOP suggests minimum contact.

In case of handling accident victims, SOP stated use of protective gear but emphasizes that there should be no time lag.

It suggests using trauma care equipment like spine board, stretchers, wheelchair but says use ambulance only for shifting.

For those handling dead bodies, the officer must use his own mobile phone for taking photos of the crime scene. "They should use supervised medical help. The officer should have minimum contact with the body," the SOP stated.