Kerala fishermen praised for releasing endangered whale shark they had trapped
Mangalore Today News Network
Kerala, Jan 29, 2020: A group of fishermen from Kerala are being hailed online after a video emerged of them releasing an endangered whale shark that they had trapped.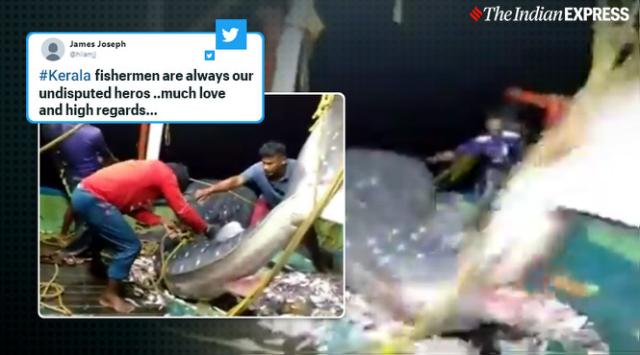 In a video that's going viral, the group of men aboard a fishing vessel are seen struggling to try get the shark under control before releasing it. The video shows the men being struck by the shark's huge tail multiple times. The men finally manage to lift the shark and drop it into the sea, Yahoo reported.


The incident reportedly involved fishermen from the Puthiyappa fishing harbour in Kozhikode, Kerala.

Whale sharks, the largest of the sharks, is an endangered species and is often a victim of bycatch, with adult sharks often getting caught and killed in fishing nets. The Kerala fishermen's attempts to ensure it was safely returned to the sea is therefore unique.

People lauded them for their great gesture and thanked them:

The whale shark is the largest known extant fish species, but is not known to attack human beings. They feed on plankton and small fishes and are found in open waters of the tropical oceans. Adults whale sharks grow up to 60-feet in length.