Japanese PM arrives in India amidst state honours, colourful welcome
Mangalore Today News Network
Ahmedabad, Sep 13 2017, DH News: Prime Minister Narendra Modi welcomed his Japanese counterpart Shinzo Abe for a two-day State visit to India in Ahmedabad on Wednesday.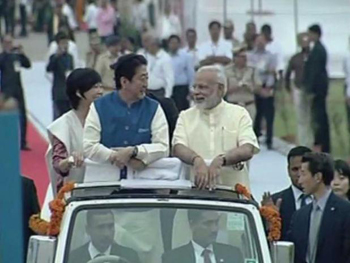 Abe flew in directly from Tokyo to Ahmedabad, perhaps one of the few heads of state to directly land in a country other than National Capital New Delhi. After official function at the airport and Guard of Honour by three wings of defence forces, Abe and his wife Aki Abe were greeted to the cultural fiesta and welcomed traditionally by Buddhist monks.

Before landing in India, Abe in his message called India to be "tremendously special" to Japan. "Today, I will begin my visit to India for the fourth time as Japan's Prime Minister and visit Prime Minister Modi's home state of Gujarat. There I will hold my 10th Japan-India summit meeting with Prime Minister Modi, and I am looking forward to further advancing the 'new era in Japan-India relations." Saying that Modi was a "powerful leader with an outstanding ability to get things done", Prime Minister Abe dubbed India and Japan as "major Asian democracies and global powers."

Before setting out for Sabarmati Ashram on a 8-km long cultural roadshow, Japanese Prime Minister was seen donning Modi Kurta and Koti, while his wife Aki Abe changing into traditional Indian attire. Climbing atop an open jeep, PM Modi, PM Abe and his wife Aki Abe, moved on to Sabarmati Ashram where they were welcomed by as many as 28 troupes en route showcasing cultural highlights of various states of India, including Gujarat, Kerala, and Odisha. Locals had also gathered in large numbers with flags of India and Japan along the decked up roads to welcome both the Prime Ministers.