Jadugar Mandrake, who disappeared during stunt, found dead in River Hooghly
Mangalore Today News Network
Kolkata, Jun 18, 2019 : 40-year-old magician Mandrake from Kolkata who was reported missing after he entered a river in a cage to perform a stunt has been found dead. Chanchal Lahiri, popularly known as Jadugar Mandrake drowned in river Hoogly while performing a stunt on Sunday, June 16. Eyewitnesses said he was lowered into the river in a six-foot-tall cage which was locked up. He was trying to create an escape trick like Harry Houdini but his magical act met with a tragic end. Jadugar Mandrake From Kolkata Goes Missing After Entering River Ganges in a Cage For a Stunt, Feared Dead, Yahoo reported.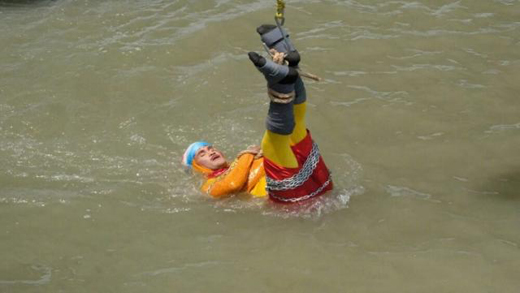 He disappeared near pillar number 28 of the Howrah Bridge. A crowd had gathered to cheer for him but soon panic set in after 10 minutes, as Lahiri did not emerge from the water. That's when the police began a search operation along with the Disaster Management Group. Four divers were looking for his body but could not find it till late evening.

"We tried to spot him. But it seems the stream has swept him away. Our divers dived deep, but could not locate him. Because of darkness, we had to temporarily stop our search operation on Sunday evening,' said a senior police officer. Before the stunt, Lahiri had taken the permission of Kolkata Police and Kolkata Port Trust. "He had mentioned the act was to happen in a boat or vessel and there was no connection with water. Hence we allowed him permission. However, he vaguely mentioned an 'extra act' which he did not clarify. We are investigating," a senior police officer cleared in a news report.

This was, however, not the first time Lahiri tried such escape games. He had performed a similar trick about a decade ago at the same location. He had also done a similar trick in 2013 but people saw could clearly see the escape door of his enclosure and had assaulted him.