Investors throng IMA Jewels after MD 'disappears'
Mangalore Today News Network
Bengaluru, June 11, 2019: Thousands of panicked investors besieged the office of I Monetary Advisory (IMA) Jewels, near Shivajinagar after an audio clip containing the voice of Mohammed Mansoor Khan, founder and managing director of IMA Group, went viral on Monday.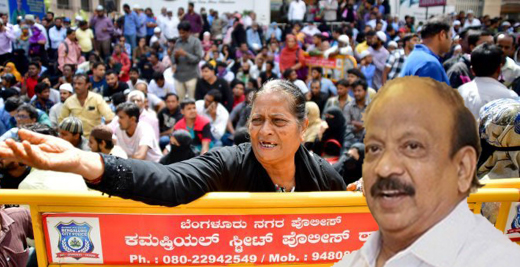 In the clip addressed to the city police commissioner, Khan, who built a diversified business empire from bullion trading, retail jewellery, gold finance, infrastructure development among others, alleged that Shivajinagar MLA Roshan Baig was arm-twisting him and refusing to return Rs 400 crore.

Khan also alleged there was a threat to his life and family members. In light of the alleged threat, the businessman claimed that he had moved his family members to a village and he was staying in South Bengaluru. He would end his life by the time his audio clip is out, he is heard saying.

After the clip went viral, thousands of investors made a beeline to the IMA office, demanding that Khan return their money.

Instead, they were greeted with a notice stating the office was closed for Ramzan and would resume work on Monday, June 10.

But since the office did not open, investors, who had also heard the audio clip, lamented that their hard-earned money was gone.

However, senior police officials neither confirmed nor denied Khan had committed suicide. Police maintained that he had been absconding since cases were filed against him by the Central Crime Branch and the Assistant Commissioner's office.

DCP East Rahul Kumar Shahapurwad said that Khan was "absconding". "Even we are clueless about his whereabouts. We are also trying to trace and locate him," he said.

Congress leader Roshan Baig, who figures in the viral audio clip, distanced himself from the row, saying he has nothing to do with the company's activities.

Baig, who was in Delhi, told reporters that he knew the IMA Group as it had constructed a school in his constituency under the public-private-partnership model.

"Beyond that, I am not aware of the company's activities and its promoter," he said.

To a question on his name in the audio clip, Baig said, "It is fake and I have requested the Bengaluru Police Commissioner to conduct a probe."

He also denied that he had taken Rs 400 crore from IMA promoter.

"I wonder where these Rs 400 crore came from. Is Rs 400 crore equal to Rs 400. Are they giving it to me in a truck or autorickshaw," he asked sarcastically.