Hectic lobbying on in Congress for cabinet berths
www.mangaloretoday.com
Bengaluru, Sept 2, 2018: Ministerial aspirants in the Congress party are said to have started hectic lobbying after the party high command recently gave the green signal for the much-anticipated expansion of the cabinet. The Congress is likely to fill four or five out of six vacant berths of its share in the third week of September.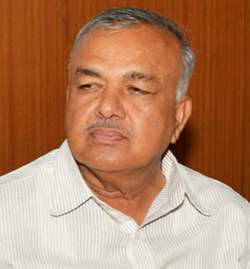 Expansion of the ministry is expected to help the party placate some of the senior leaders who were miffed with the leadership and have not been actively involving themselves in party work after the formation of the coalition government in the state.

Many senior leaders in the party, including former ministers Ramalinga Reddy, H K Patil, M B Patil, Roshan Baig, Satish Jarkiholi and S R Patil were miffed. Initially, M B Patil had even led a group of party MLAs and threatened to raise a banner of revolt. But the issue was quickly resolved after Chief Minister H D Kumaraswamy met M B Patil, who was subsequently summoned to New Delhi by Congress chief Rahul Gandhi.

Sources said among the seniors, the party is likely to consider Ramalinga Reddy and S R Patil while also accommodating legislators from the districts that have no representation in the cabinet. Reddy's induction is likely to help Congress in three Lok Sabha constituencies in Bengaluru, sources added. Currently, all three Lok Sabha seats in the state capital are represented by BJP, but the Congress did well in the city in the recent polls.

Former chief minister Siddaramaiah is likely to bat for S R Patil as his induction will give representation to Bagalkot district. Patil, a Lingayat leader, from North Karnataka, had played a key role in ensuring Siddaramaiah's victory from Badami assembly constituency.The party is likely to consider Bhadravati MLA B K Sangamesh, the only Congress MLA from Shivamogga, and Challakere MLA Raghu Murthy. Though the number of ministerial aspirants is high, the party hopes to placate some of them by appointing them as heads of boards and corporations, which comes with minister of state rank. Expansion of the ministry and appointments to boards and corporations are likely to be done at the same time.
Courtesy: Indian Express