For 8 days IAS officer toiled at Kerala relief camp without revealing who he was
Mangalore Today News Network
New Delhi, Sep 05, 2018 : For eight days, Kannan Gopinathan worked at relief camps in flood-ravaged Kerala, spending two of those carrying large packages on his head while offloading relief material from trucks in the port city of Kochi. On the ninth day, he was recognised as an IAS officer and he quietly left, as discreetly as he had arrived and helped.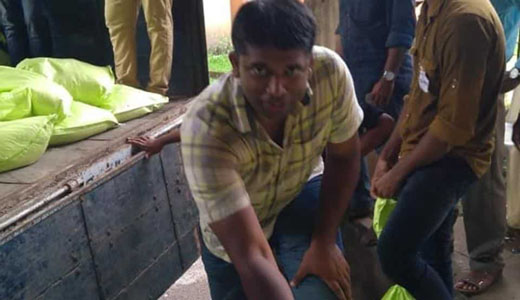 Gopinathan, a 2012 batch IAS officer serving as district collector in the union territory of Dadra and Nagar Haveli, had arrived in Kerala on August 26 as the state battled devastation from deadly floods. He was on an official visit to hand over a cheque for Rs one crore from Dadra and Nagar Haveli for the Kerala chief minister's relief fund.

Once that engagement was over, the 32-year-old took a bus from state capital Thiruvananthapuram. Not to his home town Puthupally, but to one of Kerala's worst-affected areas, Chengannur, where he went from camp to camp helping distressed people forced to abandon their homes and seek shelter.

He is reluctant to talk about it. "I didn't do anything great. I was just a visitor. You have to talk to officers who live in the midst of the affected since the flood hit the state. They are real heroes," Gopinathan said, describing as "embarrassing", the moment when he was recognised and people clamoured to click selfies with him. He was spotted while volunteering at a relief camp at the Kerala Books and Publications Society office, by a senior currently posted in Kerala.

"Some officials even said they were sorry if anything they had said had hurt me. I thought if I remain there it will be a big disservice and left the place the immediately," Gopinathan said, adding he was overwhelmed by the presence of volunteers from many parts of the country including the north-east.
He was also reluctant to talk to this reporter, saying, "I don't want it to be story. It is unfair if you glorify me. Real heroes are there on the ground. If we keep the spirit like this I am sure Kerala will overcome the tragedy soon."

On his return to Dadra and Nagar Haveli, Gopinathan applied for leave but the administration has marked the time he spent helping at the camps as an official tour.

The Kerala tragedy, which left over 400 dead and 13 lakh homeless, saw several young officers like Gopinathan brave bad weather and the threat of epidemic to engage tirelessly in rescue and relief work. Kerala's food safety commissioner Rajamanikyam was seen carrying sacks of rice, Thrissur collector TV Anupama did rounds of camps with her young baby in her arms, and Thiruvananathapuram collector Dr K Vasuki led a team of volunteers from the front.




courtesy:HT